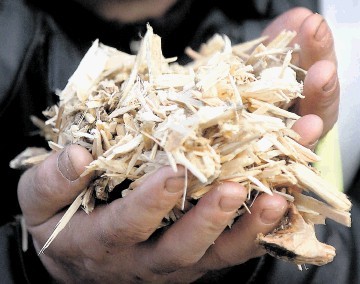 The north's wood fuel industry will soon have a new regional forum to represent it after the idea won strong backing at a meeting in Inverness.
Despite the size of the Highlands' existing forest resource, scope for new planting and the potential for bringing neglected woods into management for wood fuel, the local biomass industry is still in its infancy.
Estimates vary, but it is reckoned less than 2% of the area's homes and businesses are heated using logs, woodchips or pellets, with the vast majority of people depending on increasingly expensive heating oil, gas or electricity.
Amanda Calvert of Use Greenheat, a European Union-funded project to support renewable-energy, said: "The wood fuel industry has huge potential to boost the Highland economy.
"When electricity or fossil fuels like oil and gas are used for heating and hot water, most of the money spent on bills is going to multinational companies based in other parts of the UK or overseas.
"A thriving, local wood fuel sector creates jobs and keeps revenue in the area.
"There are some great examples of this happening in other European countries, such as Austria, and we now have an exciting opportunity to follow their lead in taking a dynamic and co-operative approach."
More than 50 representatives of businesses and organisations from across the sector gathered in Inverness last week to lay the foundations for their new industry body.
The meeting, held at Inverness Caledonian Thistle FC's stadium, was attended by foresters and woodland managers, forestry contractors, researchers, boiler installers and suppliers of pellets, woodchips and logs.
Delegates were in universal agreement that a forum should be formed, and discussed the priorities it should focus on.
These included improving supply chains, building customer confidence, installer training and a major communication drive to raise awareness among developers, planners and businesses as well as the wider public.
Black Isle-based contractor Brendan Burns of Burns, Burns and Burns Forestry Service said he had doubts over whether the industry could grow as quickly as some were hoping but the forum was a big step forward.
He added: "It's going to need a lot of hard work but it'll be worthwhile."
Rob Snaith of the Energy Saving Scotland Advice Centre said: "The fact so many people turned up and the enthusiasm that was evident shows that there is great scope for a forum.
"The group will allow people to share experiences, learn from each others' mistakes and be inspired by successes."
A follow up meeting to formally set up the forum is planned for May.