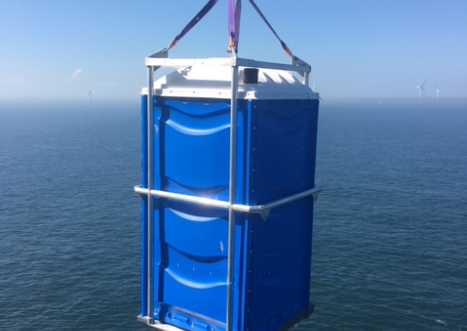 The developers of a major wind farm off Moray have awarded a £150,000 deal for toilets and washing stations to combat the spread of Covid-19.
Norfolk-based Pegasus Welfare Solutions' portable "hygiene systems" will be put on all three offshore substations on the Moray East wind farm.
The portable units can be adapted to become toilets, showers, eye wash stations or hand wash stations.
The contract, a first in Scotland for Pegasus, will run throughout the construction phase.
Pegasus will open a fabrication centre somewhere in Scotland for the modular units and is preparing to move into a new head office and manufacturing base in Norfolk.
The 100-turbine wind farm is being developed by Moray Offshore Wind Farm East (Mowel), a venture between French utility firm Engie and EDP Renewables.
Mowel project director Marcel Sunier said the agreement was a "win-win" as supply chain jobs will be created while the wind farm developer can provide a safe workplace for employees.
Pegasus owner and managing director Dan Greeves said: "The award by Mowel recognises the benefit Pegasus products and systems bring to the offshore wind sector.
"As the new normal becomes commonplace offshore, we have invested in creating a suite of solutions that are imperative in a Covid-19 world and are proven to increase safety and productivity whilst enabling diversity by offering female workers hygiene facilities and reducing cost."
Recommended for you

OEG Offshore swoops for turbine toilet maker Pegasus