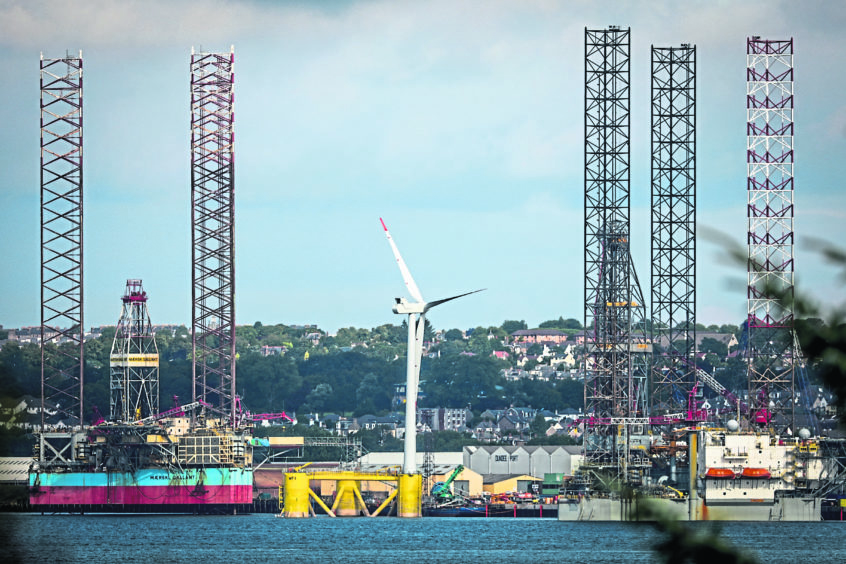 The boss of the Kincardine Offshore Floating Wind Farm has said he is "hopeful" that the project will meet its operational timeline, despite delay roadblocks thrown up by the Covid-19 pandemic.
Allan MacAskill, director of Kincardine Offshore Wind Limited (KOWL), said the 50 megawatt (MW) project should "start to progress" over the next few months to meet its 2020 finish date.
The planned six-turbine development off the coast of Aberdeenshire will be the world's largest floating offshore wind farm upon completion.
One 2MW turbine, installed in 2018, currently sits off the coast of Stonehaven.
Mr MacAskill said: "We're starting to get back moving again.
"Hopefully over the next few months we will have everything starting to arrive at site with the cable to go in in about a week or so – then the remainder of the project will start to progress.
"We've been a bit delayed by Covid-19, but hopefully we will get there this year."
Speaking as part of an All-Energy Conference panel on the future of floating wind, Mr MacAskill also cast some doubt over the ability of oil and gas and floating wind companies to work to the same timeline on the energy transition.
Describing the plans for the North Sea sector to transition to cleaner energy solutions as a "very important opportunity" for the offshore wind sector, Mr MacAskill said he worried about the capacity of the offshore wind sector to meet the timescale set down by the oil and gas sector.
He said: "I think the energy transition is a very important opportunity for offshore wind and it's something that we're looking at carefully to see if we can find a way of bringing the historic offshore business of oil and gas together with wind in a way that is mutually beneficial.
"Can we create in the ideal world a place where the oil companies win, the wind companies win and the government wins? It may be possible, but it is challenging.
"Probably the biggest challenge is time – it takes a long, long time to do things in the wind business and that doesn't marry with the opportunities set in the oil and gas sector in the North Sea."
Recommended for you

Developers battling issues at major Scottish floating wind farm