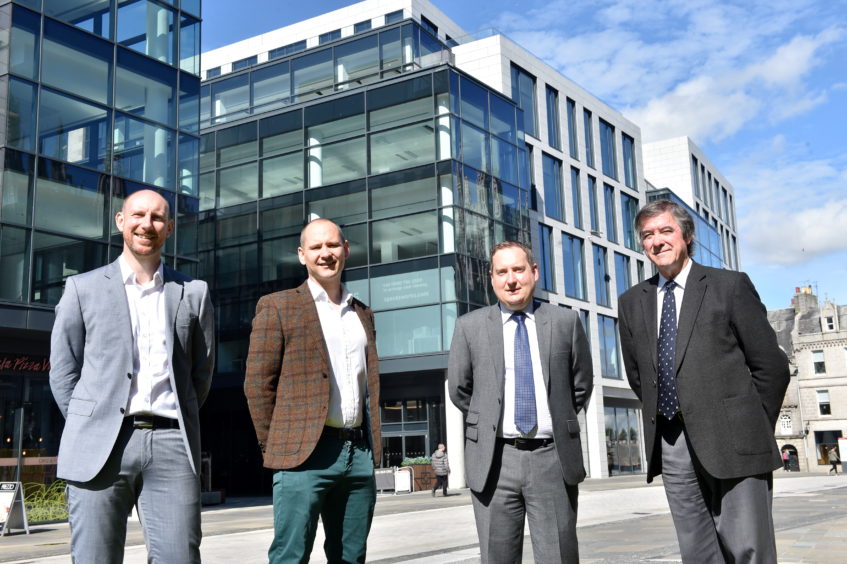 An Aberdeen businessman has set out on a crusade to carve out futures in clean, geothermal energy for "oil and gas assets and people".
Tech-Terra managing director and founder Brian Archer believes his newly created company can have a "meaningful impact on the energy transition".
His ambition is to "anchor" the Granite City in geothermal and "get oil and gas companies interested".
It comes at a time when Archer, and many others, have been left pondering what the future might hold for Aberdeen by the latest brutal round of oil industry job cuts.
Having made a name for itself in oil and gas, Archer feels the north-east now needs to grow into other industries.
"What is Aberdeen going to be good at in the future?" he asked. "Oil and gas is not going away, but some of these skills need to transition. There are only going to be so many wind farm jobs."
For their part, many of the bigger oil and gas companies are looking at clean energy technologies which would fit well with their existing skills sets and infrastructure.
They are spending more time weighing up the "big plays" of carbon capture, usage and storage and hydrogen.
But geothermal is an "interesting bet", and one that could be placed in the relatively near future, Archer said.
Oil and gas drilling, subsurface and project management skills are "instantly transferable" to geothermal, he claimed.
What's more, companies could lower emissions, unearth additional revenue and prolong asset life in the near term by repurposing onshore and offshore infrastructure and wells for geothermal.
In terms of early priorities, Tech-Terra aims to get some studies and projects under its belt and raise money. Eventually, it wants to "take on" some assets and convert them itself.
The early signs are fairly encouraging. The European Institute of Innovation and Technology has given the company a place on its Climate KIC Accelerator programme, run by the Edinburgh Centre for Carbon Innovation.
Archer has also built up an experienced team of energy sector professionals, including subsurface and strategy director Helen Taylor, who is a geologist and geotechnical engineer, and operations director Michael Dursley.
He can also count on technology and innovation director David Sinclair, who is an engineering consultant, well engineering director Neil Edward and projects director Rory Somerset.
The team members are already talking to oil and gas companies about geothermal and Archer is heartened by what they're hearing.
"Five years ago, operators were not interested in geothermal," he said. "They were busy trying to get oil and gas out of the ground, but now, with the energy transition, it's other way round. They want to know more about it."
Archer does acknowledge the geothermal sector is "small beer" when stacked up against the oil and gas and, indeed, other green technologies.
Of all the electricity generated globally by renewable energy sources in 2018, just 1.3% came from geothermal, according to the International Renewable Energy Agency (Irena).
The sector created employment for 93,500 people worldwide that same year, fewer than 1% of the 10.9 million who work in renewable technology, Irena says.
In actively volcanic Iceland, geothermal made up 30% of electricity generation two years ago.
In the UK, geothermal is pretty much non-existent, though British Geological Survey (BGS) says there is a "substantial resource" of geothermal energy at shallow depths here.
BGS does also say there are regions in the UK where the rocks at depth are hotter than expected, as some granite has radioactive elements that generate heat.
The United Downs Deep development, which harnesses granite, is slated to start supplying geothermal electricity to the grid next year from a site near Redruth, Cornwall.
Archer explained that geothermal suffers from the "big challenge" of subsurface risks and drilling costs, meaning projects tend to "fall over at the concept stage".
An example of that was provided in north-east Scotland five years ago when a consortium studied the geothermal potential of granite near Banchory.
Its feasibility study found greater geothermal potential than expected, but said it would not be competitive against the biomass fuel used by the existing heat network. It would be competitive against natural gas, however.
The consortium recommended pilot drilling and further studies. The trail went cold after that.
A spokeswoman for Hobesco, which manages the district scheme and was a consortium partner, told Energy Voice the organisation was no longer involved in geothermal, but wouldn't elaborate.
The oil and gas industry faces those same subsurface risks and drilling cost hurdles, but can clear them because the prize of millions of barrels of crude is so attractive.
The readily-available supply of oil and gas for heating UK homes and businesses is another reason for geothermal being held up – there hasn't really been any need for it.
But with the UK continental shelf's resources dwindling and oil and gas firms under increasing pressure to go green, geothermal's time may yet come.
Issuing a rallying cry, Archer said: "Let's get ahead of this, rather than looking back in 20 years' time saying, 'I wish we had done that'."
Recommended for you

Baker Hughes teams up with FFI on geothermal and green hydrogen