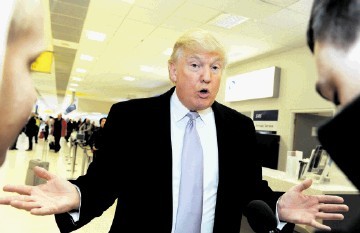 Donald Trump has launched a fresh attack on Alex Salmond over the "assurances" he was allegedly given to invest in Scotland.
The first minister played a crucial part in convincing the American not to walk away when Aberdeenshire Council initially rejected his plans for a £750million golf resort at Menie Estate, near Balmedie.
But the SNP leader denies telling the businessman that controversial proposals to build an offshore windfarm nearby would be turned down.
Last night, however, as Mr Trump touched down in Aberdeen to take his fight against wind turbines to the Scottish Parliament, he told the Press and Journal he was given "numerous" guarantees by Mr Salmond.
The Scottish Conservatives are now calling for all correspondence between the two men to be made public.
The government's green-energy policy has been heavily criticised by the Mr Trump, who is furious about plans to build 11 turbines in Aberdeen Bay.
The European Offshore Wind Deployment Centre is a £200million joint venture by utility company Vattenfall, engineering firm Technip and Aberdeen Renewable Energy Group.
Asked yesterday if Mr Salmond had told him the project would not go ahead, he replied: "Yes, he did. Absolutely. On numerous occasions. He absolutely gave me assurances.
"And he actually said it in a different way. He said there's no way we would ever put wind there, because it would be so unsightly.
"And then, all of a sudden – after I invest all that money, tens of millions of pounds – then all of a sudden we end up with this big, ugly windfarm."
A spokesman for the first minister rejected the claims last night.
"Absolutely no assurances have been given at any time by this administration to Mr Trump or his organisation, and any claims to the contrary are wrong," he said.
"If any assurances were given before this administration took office – and Mr Trump is on the record as saying that this aspect specifically relates to the previous administration – then obviously we can have no knowledge of what they were."
The Scottish Conservatives have written to Mr Salmond demanding that he discloses all correspondence with Donald Trump regarding assurances on renewable energy.
The party's energy spokeswoman, Mary Scanlon, said: "This issue needs to be cleared up as soon as possible."
"This issue is a sensitive one for many people in the north-east, and they won't be impressed by constantly hearing two differing accounts."