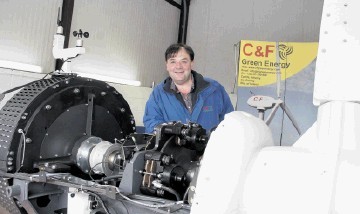 An Irish wind-turbine manufacturer opened a new base in Aberdeenshire yesterday and said two others would follow in the UK.
C&F Green Energy has chosen Turriff to site a permanent operation because of the interest there has been in its six to 20kilowatt turbines.
Boss John Flaherty, who owns the firm through his Galway-based C&F Group, said 80 of its machines are already generating power in the county out of the 205 it had erected in the UK and the 500 it now has operating globally in destinations as far flung as Haiti, Jamaica and Papua New Guinea.
Other bases similar to that at Turriff are likely to follow in Dumfries and Galloway and in Cornwall.
Mr Flaherty also hinted at the firm possibly establishing a manufacturing presence in the north-east, but said that could be some time off.
C&F now has 26 staff in Scotland and has created a handful of new jobs at Turriff. Mr Flaherty said the intention was to create more as he intends training local crews to erect and service turbines. He will be unveiling two bigger 50 and 100kw turbines at the All-Energy Show in Aberdeen later this month.
Mr Flaherty, a farmer and agricultural contractor, undertook a tool-making apprenticeship and set up engineering business C&F Tooling in 1989. It has blossomed and now has an £81million turnover and 2,000 staff in the UK, Ireland, Germany, the Czech Republic, Philippines and US.
It contract manufactures a range of goods, including server racks and cabinets, photo booths, fridges, automotive trims and waste recycling units globally for various blue chip companies, including IBM, Volkswagen Group, BMW, Ford, Thermo King Ingersoll Rand, Toshiba and Sanyo. He branched into wind energy in 2008 and aims to make the business the world's biggest turbine firm through using its global manufacturing sites.
He appreciated the opposition in certain areas to turbines, but said the green energy revolution was allowing wealth to be distributed across society. No longer was power generation in the hands of a few multinational businesses.
The bulk of the turbines he had sold in Scotland were to farmers. He stressed the importance of farms being self sufficient in power, adding that any surplus income from the turbines was being spent locally.
"It's critical every farmer should have the capability to do things themselves. They buy in tractors and equipment to grow crops, but they should have also turbines to produce their own power.
"It's all about creating distributed wealth and that's the drawback from big turbine farms. There's a huge societal benefit from micro-wind."