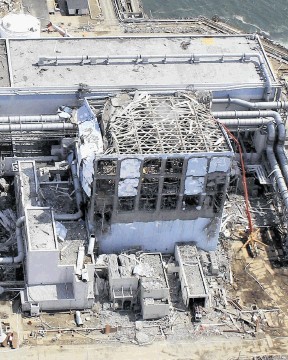 Japan is starting to flex increasing muscle in the offshore wind market, both through domestic technology development and international investment.
A consortium of Japanese firms is working together to develop an offshore floating windfarm model with plans for a 16MW demonstrator already on the planning table.
Meanwhile the country's state-backed Japanese Bank for International Cooperation JBIC recently signed a memorandum of understanding with Lord Green, the UK's trade minister, to invest billions into British infrastructure, particularly offshore wind power, which has struggled for project finance.
Both schemes follow the recent news that Japanese firm Marubeni planned to buy jack-up vessel firm Seajacks – the Great Yarmouth-based firm has had a significant presence in the UK and European offshore wind construction market.
Marubeni is in fact the leader of the consortium, which includes Mitsubishi, Mitsui and Nippon Steel, now looking to develop the floating offshore windfarm off Japan's Fukushima Prefecture.
The consortium's plans follow last year's earthquake and tsunami, killing just over 19,000 people and unleashing the world's worst nuclear crisis in a quarter century.
Its initial aim is to create three floating wind turbines and one floating power sub-station.
A first stage, due to start this year, would see one 2-megwatt (MW) floating wind turbine and what the group claim is the world's first 66kV floating power sub-station and undersea cable.
A second stage would see two 7MW wind turbines added between 2013 and 2015.
The project may be expanded to 1,000MW, the country's Ministry of Economy Trade and Industry, which is sponsoring the scheme, has said, bigger than any windfarm fixed to the seabed or on land.
Japan currently has fewer than a handful of offshore wind projects, most with no more than five turbines.
The country is surrounded by deep water, making the prospect of windfarms attached to the seabed difficult.
The world's first floating offshore wind turbine is Statoil's 2.3MW Hywind, off the coast of Norway. Statoil is currently considering two test parks off Scotland and the US with 3-5 wind turbines each, potentially by 2016.
Development of Hywind started in 2001.
Japan's trade ministry and Fukushima Prefecture hope that such a project will spawn a new industry in the region, which was devastated by the earthquake and tsunami.
In a statement, Marubeni said: "We believe that creating a practical windfarm business scheme through this experimental project could lead to the deployment of large-scale floating windfarms in the future.
"Moreover, taking advantage of the experience and knowledge gained through this, the world's first floating windfarm, this business could be expanded on a global basis and lead to the development of a new Japanese export industry."