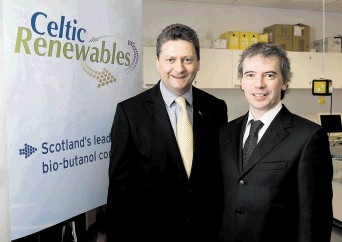 A spin-out from Edinburgh Napier University is in the process of scaling up what it hopes will become a commercial production of biobutanol from whisky by-products.
Celtic Renewables' first pre-commercial trial is due to start producing biobutanol, which it says could directly replace petrol in cars, this summer.
It is based on a fermentation process developed during World War I by chemist Chaim Weizmann.
His ABE fermentation process used bacteria and fermentation to extract chemicals from crops and was used to create acetone for explosives during the war.
Once widely used, it was superceded by cheaper petrochemicals and set back by US subsidies on food crops, which meant less land was available for biofuel or chemical production.
Celtic Renewables' chief executive Mark Simmers told Energy: "They didn't realise at the time that biobutanol could potentially be a direct replacement for petrol. Effectively that is what we are trying to do.
"It is much more advanced than standard biofuel, especially in terms of trying to replace petrol, and is better than ethanol, because it is a four carbon structure rather than a two carbon structure.
"This means it holds more energy and integrates better."
By using waste products from whisky production, Celtic Renewables aims to create as sustainable a fuel as it can.
The draff and pot ale contain complex sugars not converted into the whisky products, which can still have chemicals extracted from them using bacteria and enzymes in a process the company has two patents on.
The firm estimates there are about 600,000 tonnes of waste draff produced a year – a figure due to rise as whisky exports rise – and about triple that amount in pot ale, another by-product which can be used in the biobutanol production process.
So far the firm has raised £300,000 in funding, a third of that from private investors, which Simmers hopes will cover the cost of the pre-commercial trial at the Centre for Process Innovation on Teesside.
He said the process would see about 10,000 litres fermented into "several hundred" litres of biobutanol, plus other by-products ethanol and acetone, over a period of about three days. The draff, which farmers use as cattle feed, would also still be recycled as animal feed once processed, he said.
The next step, it is already working on, will be finding first commercial trial sites, ideally located near a distillery but also where the fuel and the other byproducts could be used.
He said Islay, home to a number of distilleries, could be an option, as could the Speyside area.
Simmers said there was a potentially global market but realistically they aimed to provide "sustainable local solutions for fuel, especially in areas like rural Scotland where it is very costly and energy inefficient to transport fuel to those remote locations".
"The concept we need to get comfortable with is that there will be multiple sources of transport of fuel, electric cars, biofuel, biomass and so on," he added.
In February, Celtic Renewables won a £40,000 award in the Scottish round of the Shell Springboard scheme.
Shell Springboard is a Shell-funded UK Social Investment programme, which provides a financial boost to small and medium enterprises with innovative, low-carbon business ideas.