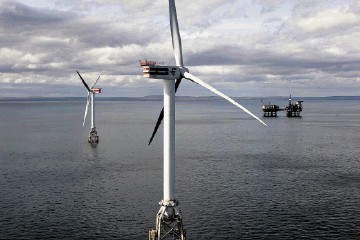 An energy conference aiming to bring together representatives of the oil and gas and offshore renewables industries will be held in Inverness next week.
Up to 200 delegates are expected to attend the inaugural Common Water – Common Ground event to share knowledge and experience of working in challenging marine environments.
The two-day exhibition, organised by the University of the Highlands and Islands' Energy Research Group, opens on Wednesday.
Conference organiser Mike Weston said: "There is a lot of common ground between the skills and knowledge needed to develop marine renewable installations and those used in the oil and gas sector.
"Companies entering the renewables sector can learn from established offshore operators and there are huge opportunities for supply-chain businesses to get involved with emerging technologies. There are also significant issues to be addressed, not least ensuring our region has the skills and infrastructure needed for anticipated renewable activity.
"The Common Water – Common Ground conference will explore these topics and provide information to businesses interested in technological innovation or diversifying into new sectors."
Speakers at Common Water – Common Ground will include Bill Edgar, chairman of industry body Subsea UK, and Douglas Yule, a director of Global Energy Group, which has head offices in Inverness and Aberdeen.
North businesses are in a buoyant mood after the record-breaking All-Energy show in Aberdeen this week.
The two-day event, which finished at Aberdeen Conference and Exhibition Centre on Thursday, attracted 8,322 visitors.
This was up by 8% on last year, when 7,659 people attended.
Nearly 80 firms showed under the banner of HI-Energy to showcase the region's renewable expertise in regional pavilions from Orkney, Shetland, Caithness and Argyll.