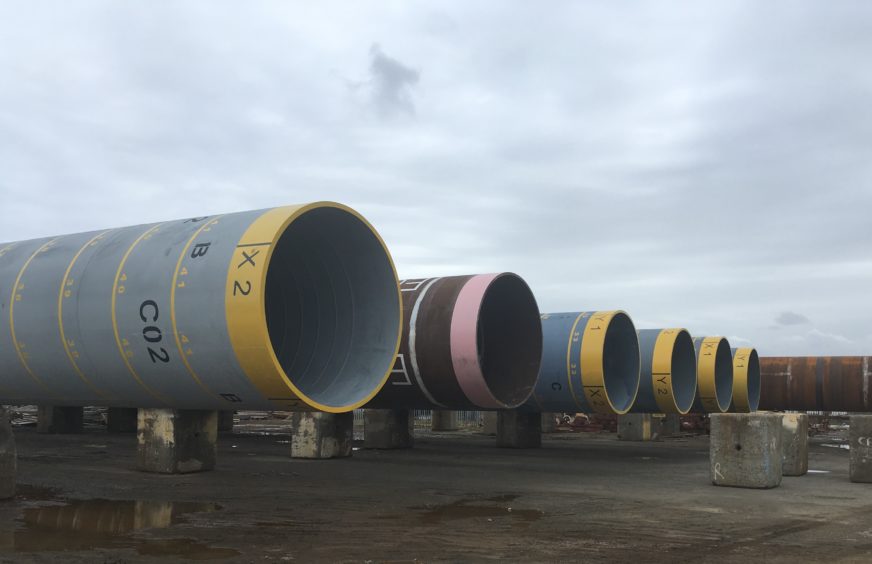 A former UK energy minister has called on the Scottish Government to "come clean" about the terms of a lease agreement for a mothballed BiFab yard on the Isle of Lewis.
Brian Wilson, former UK energy minister under Tony Blair, said the current lease agreement has been "shrouded in secrecy" by Holyrood and must be made public to remove any barrier to trade at the Arnish premises and bring new work to the Western Isles.
It comes as BiFab owners DF Barnes revealed last week that the Scottish Government had pulled support for the firm and placed future contracts in serious doubt.
DF Barnes said the removal of assurances from Holyrood made any contract to provide eight turbine jackets for the NnG Offshore Wind Farm "very challenging".
The Arnish yard is understood to be leased to BiFab but owned by the Scottish Government and Highlands and Islands Enterprise (HIE).
Mr Wilson said: "It's pretty clear that BiFab have no ongoing interest in Arnish and the critical point is that if there are companies who could bring work to Lewis then there must be an open door to them – there must not be a barrier.
"Nobody in the community knows the terms of the agreement between the Scottish Government and BiFab as far as Arnish is concerned – it's shrouded in secrecy.
"We need to know what is needed to make the yard viable and if another company could access it if they wanted to."
Following the news that the Scottish Government would no longer be backing BiFab, the remaining maintenance crew at Arnish were handed redundancy notices by the firm on Thursday.
One former BiFab worker based on the Isle of Lewis, who did not want to be named, said: "We asked HIE for the terms of the lease agreement between themselves and BiFab and they told us it was private and confidential – but they should divulge it now.
"BiFab have been here for 12 years, but over the last eight or nine years the yard has been closed more than it has been open.
"Arnish has now reached a crossroads. BiFab need to renege the lease and let companies come in and make a go of the yard."
GMB Scotland organiser Hazel Nolan accused the Scottish Government of leading communities dependent on the success of BiFab's yards "up the garden path for the last decade over Scotland's green jobs prospects".
She added: "Members of the community on Lewis are right to be furious and they are right to demand answers – all the difficult questions are the Scottish Government's to answer."
The Scottish Government last night refused to respond but said HIE hold direct responsibility for the Arnish lease to BiFab.
Register for free to join Energy Voice's virtual Energy Transition Idea Exchange (ETIDEX) summit on November 19 at www.etidex.co.uk