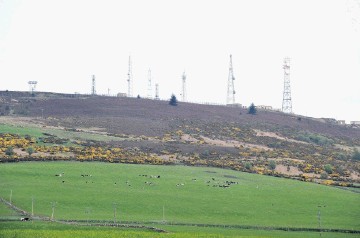 The Ministry of Defence has opened talks with developers behind plans for Buchan's biggest windfarm.
Turriff-based Muirden Energy hopes to persuade military chiefs to lift their objection to the company's bid for a 12-turbine development on the slopes of Mormond Hill.
The project has divided the local community since it was announced a year ago.
Opponents, who launched an action group to fight the plan, say the scheme will destroy one of the north-east's best-known landmarks.
But supporters argue that Mormond Hill is an ideal spot for the scheme, which is expected to boost the local economy through a community benefit fund.
Aberdeenshire Council officials have revealed that of the 400 letters and e-mails they have received about the plan, the majority have been in favour.
However, the Ministry of Defence has called for the project to be rejected, claiming it will cause "unacceptable interference" to radar equipment at RAF Buchan, some 14 miles away. Last month, in what has been described as a landmark ruling, Buchan councillors rejected plans for a separate single-turbine scheme at Maud, based solely on similar claims by the MoD.
The decision has threatened the future of more than 30 other turbine projects, which have also been the subject of objections from defence chiefs.
Muirden hopes to reach a compromise which will keep its plan alive, but also satisfy the military.
A spokeswoman for the Defence Infrastructure Organisation – the MoD's property arm – confirmed negotiations with Muirden had started.
"The MoD is currently in dialogue with the developer to investigate possible solutions," she said.
No one from Muirden was available for comment.
As well as the Mormond Hill project, the MoD has also objected to a two-mast development planned for Fraserburgh harbour and an 11-turbine offshore scheme at Aberdeen bay.