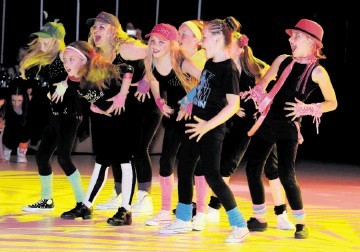 Aberdeen Exhibition and Conference Centre (AECC) was almost unrecognisable for guests at Saturday's event.
The venue was transformed as hundreds of men in suits and kilts and women in beautiful dresses enjoyed a champagne reception.
The north-east's finest milled among sports cars and motorbikes, while the Bristow helicopter and nearby liferaft were also popular attractions.
Guests also had the chance to try their hand at roulette or blackjack at Panalpina's casino tables.
At the other end of the hall, dozens of beautifully arranged tables surrounded a stage and a dance floor, which were to be the setting for rousing entertainment.
First to appear on the floor – and also beamed on to large screens around the room – was electric string quartet Escala.
The three violinists and double bassist – former Britain's Got Talent finalists – thrilled the crowd with renditions of classical music as well as more-contemporary songs, including Paul McCartney's hit Live and Let Die.
Following two delicious courses, including a succulent roast fillet of beef, the 1,400-strong audience was treated to an energetic performance by young dancers from Aberdeen's Maitland School of Dance.
After a selection of Scottish desserts, Escala returned to the stage for more, and guests then had the chance to show off their own dance-floor moves to the excellent music of the Magic of Soul and Motown.
The floor was filled instantly as the talented group reeled off hits from the Jackson Five, Lionel Richie and many more.
The dancing continued into the early hours of the morning, and guests left having been given a night to remember and already looking forward to next year's event.