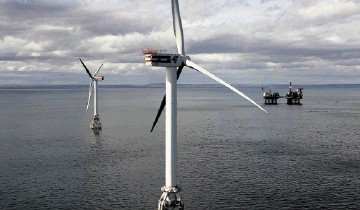 AN ENERGY company has revealed plans for more than 400 wind turbines in the Moray Firth.
Moray Offshore Renewables Limited (Morl) has applied to Scottish ministers for permission to build up to 417 of the green-energy structures – with 1,500 megawatts of generating capacity – on three windfarm sites. Campaigners hit out at the scheme – but one councillor hopes the plans will create jobs.
In 2010, the Crown Estate gave Morl – a joint venture between EDP Renewables and SeaEnergy Renewables – exclusive rights to develop turbines in a specified zone in the Outer Moray Firth. In the early stages of the plan, the firm said the scheme would involve more than 200 turbines – but the latest application doubles that figure.
The first phase would be built in an area known as the Smith Bank sandbank and the turbines would stand up to 670ft tall in deep water about 14 miles off the coast of Caithness.
Power is expected to be carried ashore by a cable buried beneath the seabed and it would reach land in Aberdeenshire – either at Fraserburgh or Rattray Head. The turbines are likely to be visible from parts of the coastline around the Moray Firth on clear days.
The firm estimates construction could begin in 2014, with the first power generated in 2016. A spokesman said the firm had put in a planning bid for 417 structures but it expected to build up to 339, depending on how technology developed in the next few years.
Up to 1,400 people could be involved in the construction phase and about 300 workers could be employed during the operation of the windfarm.
But campaigners fear the negative effects of the turbines could outweigh the economic benefits.
Stuart Young, of Caithness Windfarm Information Forum, said: "They are going to be in people's eyes and in their windows. It will be inescapable. At least on land you can turn round a corner."
B&B proprietor Sheena Millington, of Lybster, said: "We are having to really depend on tourism right now and developers are trying to come here and take all we have left away from us.
"Why should we be stuck with all of these? Just because we don't have big enough voices to make a stink, we are stuck with it.
"Once again the community don't know anything about it and we are the ones it will impact on."
Anti-windfarm campaigner Lynsey Ward, who lives at Beauly, added that she was shocked by the proposals.
The 52-year-old said yesterday: "My major concern is that not enough is known about the devastation caused to fishing grounds and marine life. There's lots of tourism connected with whales and dolphins in the Moray Firth."
She said campaigning against large developments was comparable to a full-time, but unpaid, job.
"We are not just talking about whether you can see them, or if they are near people's homes," Ms Ward added. "It seems to be like we are industrialising everything.
"The only reason these are being built is so the developer can rake in the subsidies. I'm horrified."
Meanwhile, Caithness councillor Donnie Mackay said he backed the proposal, as long as it brought work to the region. He said: "It will hopefully bring jobs to Caithness, especially for the young people. We don't have any opportunities here for the youngsters leaving school."