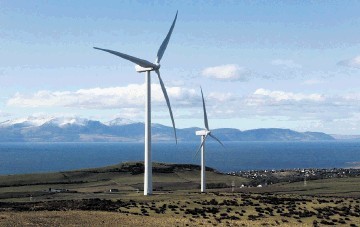 Alex Salmond has defended onshore windfarms, saying they do not spoil the countryside and actually make Scotland more attractive.
Campaigners branded the first minister "out of touch" last night – and warned that his stance on the issue would cost him victory in the independence referendum.
The SNP leader told delegates at a renewable energy conference in Edinburgh that he did not think there was any serious evidence that windfarms were incompatible with the landscape.
He insisted visitors were attracted to Scotland partly because of its green credentials and said offshore windfarms would be even more successful than onshore ones.
The Scottish Government – which has claimed tourists are largely indifferent to sensitively sited turbines – has set a target of generating 100% of electricity from renewables by 2020.
Highland anti-windfarm campaigner Lyndsay Ward said she was "stunned and horrified" by Mr Salmond's "out-of-touch" stance.
"There is a burning question that people threatened by industrial windfarm development are asking themselves," she said.
"If this government cannot be trusted to care for the environment, and protect people in rural communities from predatory windfarm developers, then how can it be trusted with independence?
"The answer for many is that the government cannot be trusted and they will vote accordingly in 2014."
Ms Ward, who owns a B&B at Beauly, claimed some guests told her they were "absolutely horrified" by the prospect of the landscape being peppered with turbines and would think twice about visiting Scotland in the future.
Moray Council planning convener Douglas Ross said the first minister's comments were "ridiculous", "quite incredible" and illustrated how out of touch he was.
The Conservative councillor claimed the remarks would reinforce people's fears the SNP was determined to erect turbines in inappropriate areas to meet green energy targets.
Mr Ross said: "These are ridiculous comments from the first minister and fly in the face of most comments I hear about wind turbine applications coming to the planning committee.
"Reasons for refusal can be on the grounds of visual intrusion on the landscape, so for the first minister to say they have no impact is quite incredible"
Peter Argyll, chairman of Aberdeenshire Council's infrastructure services committee, said many residents across the region would disagree with Mr Salmond's comments.
"People across Aberdeenshire are expressing concern about the impact turbines are having on lifestyle, landscape and way of life, which would appear to contradict the first minister's views," he said.
Murdo Fraser, convener of Holyrood's economy, energy and tourism committee, said Mr Salmond's "staggering defence" of windfarms would not be appreciated by communities across Scotland.
"If imposing unsightly turbines were such an aesthetic hit with the people of Scotland, why do they attract such widespread opposition?" the Conservative MSP said. "Not only do they risk ruining huge swaths of our countryside, they don't even work properly because their energy production is unreliable and intermittent. That is why underpinning an entire energy policy on them is dangerous, wasteful and insensitive."
Anti-windfarm campaigners are staging a march and rally in Perth on October 20.
Talking about turbines and the scenery, Mr Salmond said yesterday: "I don't think there's any serious evidence that they are incompatible.
"On the contrary, I think one of Scotland's attractions is that we are a green country committed to renewable energy.
"I think that enhances our appeal as a country."
Mr Salmond predicted offshore windfarms would be an even "greater success" than onshore developments – despite US billionaire Donald Trump's vocal opposition to a testing centre in Aberdeen Bay near his golf resort.
"I'm very happy that the Scottish Government will judge that application on its merits," said the Aberdeenshire East MSP.
"There's no amount of noise or foot-stamping that's going to distract the Scottish Government from discharging its responsibilities properly."
Recommended for you

Truss plans 'skew support' to richest households, warns Resolution Foundation