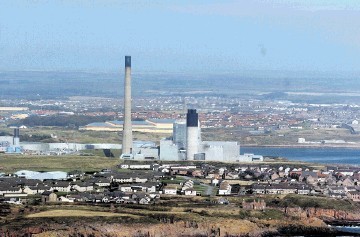 The north-east moved a step closer to winning a £1billion funding competition to develop a pioneering green energy technology yesterday.
A plan to build a carbon capture and storage (CCS) facility at Peterhead Power Station was named on a shortlist of four projects still in the running for the money.
But the UK Government – which was expected to announce the winners of the contest this month – came under fire amid claims the decision has been "kicked into the long grass".
Energy giants Shell and SSE, which are behind the plans for Peterhead, also spoke out last night, highlighting an "urgent need" to move forward with CCS and calling for funding commitments "as soon as possible".
CCS is seen as crucial to cutting harmful carbon emissions and tackling global warming, with the Peterhead project proposing to take COfrom the town's gas-fired plant and pumping it into a depleted North Sea gas reservoir.
A Scottish Enterprise study revealed last year that the scheme could create almost 1,000 jobs and lead to a £590million investment during the construction phase. The Peterhead pilot emerged as a front-runner for UK Government support a year ago, following the collapse of a coal-based CCS project at Longannet in Fife.
Eight bidders entered the competition after it was relaunched by the coalition at Westminster. The department for energy and climate change (Decc) revealed yesterday that four of the bids had been selected after an evaluation process which considered deliverability, value for money and timescale. As well as Peterhead, schemes at Grangemouth, Teesside and north Yorkshire were on the Decc shortlist.
Last night, a spokeswoman for the Peterhead development said: "The government's announcement signals its commitment to CCS and brings some important clarity to the competition process. However, we would encourage the government to give certainty by making a firm funding commitment as soon as possible."
Labour's shadow energy minister Tom Greatrex said: "The UK should be at the cutting edge of developing carbon capture and storage, but yet again Energy Secretary Ed Davey has kicked a decision about support for CCS into the long grass, creating more uncertainty for the industry."
Local MP Eilidh Whiteford said last night: "This is a very important step along the road for the Peterhead project so I welcome today's announcement from the secretary of state for energy. In Scotland we are working to deliver a diverse and balanced energy portfolio to provide us with secure and affordable heat and electricity for decades to come, and CCS technology could have an important role to play in that."
Recommended for you

Ambition crucial to building CCS success