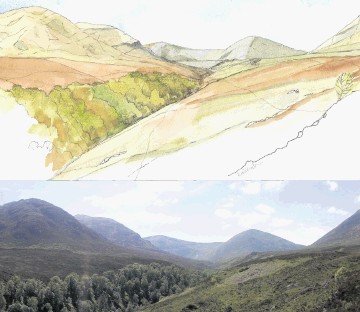 Plans for a massive hydro scheme in the Highlands' tourist heartland have won councillors' backing – despite objectors claiming it would bring years of misery.
SSE Renewables' £800million project at Coire Glas, above Loch Lochy in the Great Glen, would be the largest in Scotland if it gets final approval. It would be the first new pump-storage hydro-electric scheme to be built in the UK for 28 years.
More than 150 people would be employed at the site during the six-year construction period if the project gains Scottish ministers' approval.
Highland councillors welcomed the boost the scheme would bring to the economy and urged SSE to recruit Highlanders for the building work.
But they have concerns over several issues, particularly the removal of thousands of tonnes of rock from the proposed tunnel from the mountain dam to the shores of Loch Lochy, and the predicted increase in lorries on the twisting A82 Inverness-Fort William road.
In the worst-case scenario, the number of trucks on the road would increase by 73%, prompting members of the south planning applications committee to call for the rock to be transported by barge along the Caledonian Canal.
Highland Council received 24 letters of objection to the scheme, as well as three in support, and around 200 people attended a public meeting on the proposal.
Last night objectors said they were disappointed with the council decision, which one said would bring "years of misery". Representatives of the council, planning department and developers will also form a group to discuss ways of mitigating the effects of the work on the local community and to ensure the area gets maximum benefit from the scheme.
Councillor Thomas MacLennan, who represents Fort William and Ardnamurchan, said the number of lorry trips required during the construction was "totally unacceptable".
Meanwhile, Bill Lobban, councillor for Badenoch and Strathspey, said: "There will be major national benefits for years to come. The short-term problems that will occur will be way outweighed by the benefits."
Last night, SSE Renewables welcomed the council's decision. Colin Nicol, the firm's director of onshore renewables, said: "A project of this scale would bring significant positive benefits to the communities which surround it and we are committed to maximising these benefits to the local communities, businesses and suppliers, should the scheme be consented by ministers."
Recommended for you

SSE starts exploratory works on 1.5GW Coire Glas hydro scheme