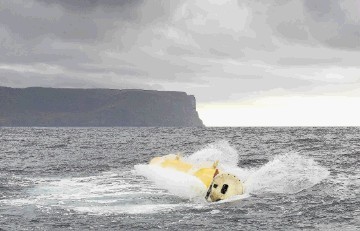 A north isles wave and tidal-energy test centre has been given a £4.1million expansion grant by the Scottish Government.
The European Marine Energy Centre (Emec) in Orkney will use £3million of it for a new berth to test wavepower devices and the rest to test support vessels serving the local energy industry.
Energy Minister Fergus Ewing announced the grant at RenewableUK's annual wave and tidal conference in London yesterday.
Mr Ewing said: "Emec is the number one centre in the world for testing marine devices and it is vital that we maintain that lead and continue to reap the economic benefits.
"Since Emec was established in 2003, the marine industry has created around 250 jobs in Orkney."
The new berth is expected to help Emec to meet increased market demand for its services, while the money for sea trials of the support vessels means they can be tested safely and cost effectively.
Meanwhile, a new memorandum of understanding (MoU) signed between Pentland Firth and Orkney Waters Marine Energy Park and the South West Marine Energy Park in England is expected to encourage co-operation.
Announcing the move, RenewableUK said: "The MoU forms a working partnership that will result in increased collaboration and the sharing of innovative ideas between England and Scotland."
Elsewhere, First Minister Alex Salmond welcomed the European Union's energy commissioner, Gunther Oettinger to Scotland for talks with key government and industry figures in Edinburgh in advance of further meetings in Aberdeen today.
Mr Salmond said: "Working with the EU and our other partners in Europe, the Scottish Government will continue to support the research and development of key energy technologies, creating jobs and investment in Scottish communities, while playing a full part in the development of a secure and increasingly decarbonised European electricity industry. Our support for leading centres such as Emec and the Scottish European Green Energy Centre in Aberdeen underlines that commitment."
Recommended for you

EMEC Orkney floating wind site 'worth £690m' to UK