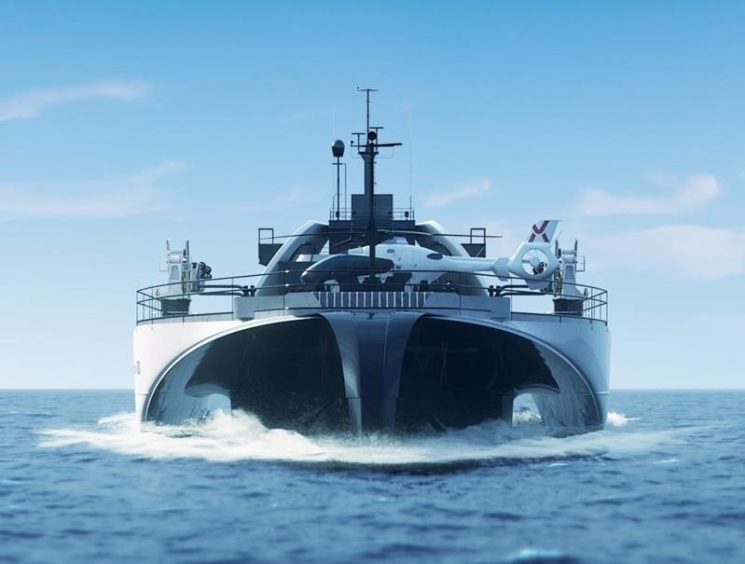 Japanese company PowerX plans to revolutionise the export of electricity from offshore wind farms by displacing power cables with robot ships packed with banks of high-tech, rechargeable batteries.
It claims the novel, autonomous 'trimaran' vessels will be cheaper and quicker to develop, build and operate and have less impact on the environment than subsea cables.
It would apparently also be more resilient to natural disasters than subsea power cables.
PowerX claims the first power transfer test vessel will cost just $36.4million and that it will raise the capital required via private funding, including partnerships with major Japanese shipyards.
Offshore, power generated by a suitably equipped wind farm would be transported via array cables to an HVDC platform collector and converter, which would then feed into a PowerX mini-grid and then into the batteries on board the vessel.
PowerX says it will take about four hours to fully charge the batteries from an offshore wind farm.
The company says its first "Power Ark" vessel should be ready by 2025. It would be equipped with 100 grid batteries capable of delivering 222MWh combined — equivalent to the total electricity consumption of 22,000 Japanese households in one day.
Power Ark will measure 100m length overall, by 21.9m breadth by 5m draft. It will be able to carry a load of 2,200 tonnes and be capable of speed of up to 14 knots.
It will have hybrid propulsion systems with a designed operating range of 300km when running only on electricity, but an intercontinental capability when running on diesel.
Two further and much larger vessels are planned, which will be capable of delivering 2,090 MWh and 5,660 MWh respectively.
PowerX says it also wishes to build a factory in Japan to manufacture grid and marine batteries to enable delivery of the power transfer vessel, as well as electric vehicle (EV) fast-charging batteries. The company is already looking to hire battery factory managers, ESS product engineers, project managers and more.
It is clear that PowerX is keen to position itself to take advantage of the now fast expanding Japanese domestic offshore wind market.
The Japanese government targets for renewable energy to generate 36-38% of the country's power production in 2030, a major upgrade from its previous plan of 22-24%.
This will require a boost of offshore wind power from the current 20MW to 10GW by 2030.
Japan is surrounded by deep coastal waters, which limit the potential range for setting up offshore wind farms. If the Power Ark proves successful, then such limitations might perhaps be eliminated in part.
More wind farm ships for Europe
Meanwhile, in Europe, which is the current epicentre for offshore wind farm construction and relevant ship technology development, Norwegian company Kongsberg Maritime has secured another client for its wind turbine installation vessel (WTIV) designs following the signing of contracts totalling $57.5m with the Chinese shipbuilder COSCO Shipping (Qidong) Offshore located near Shanghai.
The agreement will see Kongsberg Maritime (KM) supply comprehensive technology packages for two new NG-20000X class WTIVs.
COSCO is building the ships for Danish firm Cadeler, which currently operates the Wind Orca and Wind Osprey.
Their new consorts will rank among the largest of their kind and be capable of transporting and installing multiple sets of next- and future-generation wind turbines, and their foundations.
The first of the new WTIVs, which will primarily service the European renewable energy market, is expected to be delivered before the end of Q3 2024. The second is expected by Q1 2025.
KM has paid a great deal of attention to the environmental footprints of the new sisters and, basically, the objective is to maximise their operational capability while reducing the number of engines and fuel consumption required for both crane operations and DP manoeuvring.
They will also incorporate technology for the regeneration of power from the jacking system and cranes. To further reduce the environmental footprint and minimise downtime, KM has also included its new onboard advisory system, EcoAdvisor, and a condition-based monitoring system to extend maintenance intervals and detect any anomalies in the performance of propulsion systems.
Also, Norway's Rem Offshore has signed contracts with Fincantieri's Norwegian-based subsidiary Vard for two offshore wind construction service operations vessels (CSOVs) with an option for two further ships of the Vard 4-19 class.
The first of the batch will be delivered from Vard in Norway in first half of 2023. The hull will be built at Vard Braila in Romania. The second  will be built and delivered by Vard Vung Tau in Vietnam and is scheduled for delivery in 2024. Contracts value for the duo is around $118 million.
These 85m CSOVs are designed for world-wide services and maintenance operations and are marketed as being very versatile.
Key features will include a height-adjustable motion-compensated gangway with elevator system, a height-adjustable boat landing system, and a 3D-compensated crane. The sisters will each offer high grade accommodation for up to 120 persons.
Client Rem is best known around the North Sea for its capabilities in supporting offshore oil & gas. However, the company is now moving with the times and refocusing its business.
Recommended for you

Vestas named turbine supplier for Inch Cape wind farm