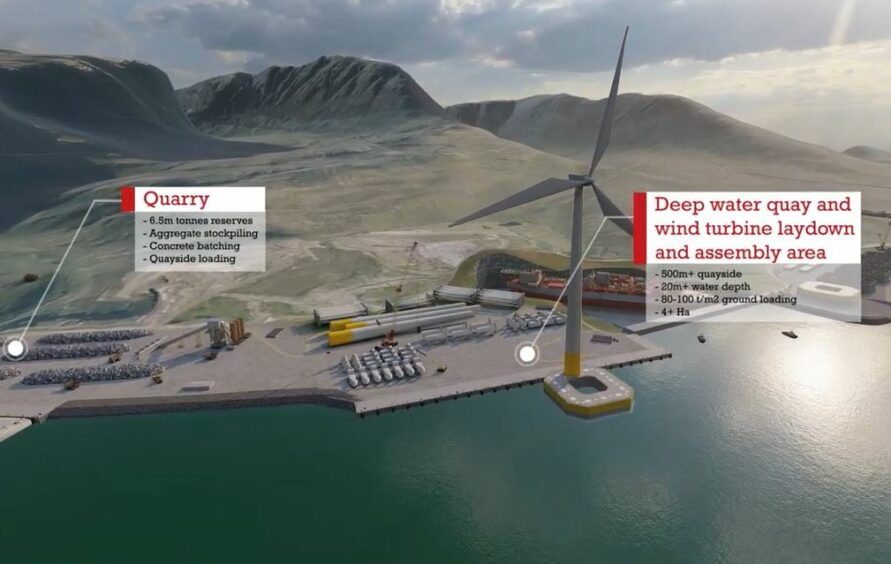 Kishorn Port has unveiled its new "masterplan" to capitalise on Scotland's upcoming offshore wind boom.
A virtual drone flyover shows off the vision for manufacturing, laydown, assembly and load out of offshore wind structures at the Wester Ross facility alongside day-to-day operations including oil and gas decommissioning and aquaculture.
It is hoped the redeveloped port, first used as a construction site for oil platforms in the 1970s, could create around hundreds of jobs in the coming years.
Bosses at Kishorn Port Limited (KPL) said they are already engaged in conversations with offshore wind developers and other Scottish ports to ensure capacity is available ahead of ScotWind awards, and are aiming to have "developments on site to scale" by Q3 2022.
It comes after the Scottish Offshore Wind Energy Council last month highlighted that a "cluster" of ports could deliver £1.5bn – £4.5bn to the Scottish economy, with Kishorn highlighted as one of the candidates.
Around 200-300 jobs could be created alone through offshore wind manufacturing and assembly, according to bosses, as projects from the upcoming ScotWind leasing round come into the pipeline.
Director Alasdair Ferguson said: "We've been very mindful of the ScotWind rounds and we're obviously encouraged by discussions with developers and various new stakeholders within that.
"We're trying to keep an eye on expectation but we need to be realistic about what this could create and the opportunity it could create. We think there's genuine opportunity here.
"We've hopefully demonstrated over the last number of years that we have continued to invest in the site, people and infrastructure and this is just another part of the exciting journey we're on."
The flyover showcases the on-site quarry and concrete batching facilities to manufacture subsea concrete structures for floating of fixed bottom offshore wind turbines.
Future development costs are estimated to be in the region of £40million and work will be underway with site surveys over the next six months to work on extending the drydock and creation of a deep-water quay to go out to tender.
Highland Council granted planning permission in April to increase the size of the port's drydock to accommodate vessels 250metres long, and reclamation of 22 acres of laydown land, providing a total of 20 hectares at or close to the quayside.
Meanwhile oil and gas decommissioning is another string to KPL's bow, hoped to create around 50-60 jobs at the port.
The Northern Producer floating production facility, formerly of the EnQuest Dons fields in the North Sea, arrived at the port earlier this year and is earmarked for decommissioning within the drydock.
KPL, a joint venture between Ferguson Transport and Shipping and Aberdeen-based quarry firm Leiths secured permission to redevelop the site in 2013
Recommended for you

Port of Aberdeen hits 100 vessel milestone for offshore wind