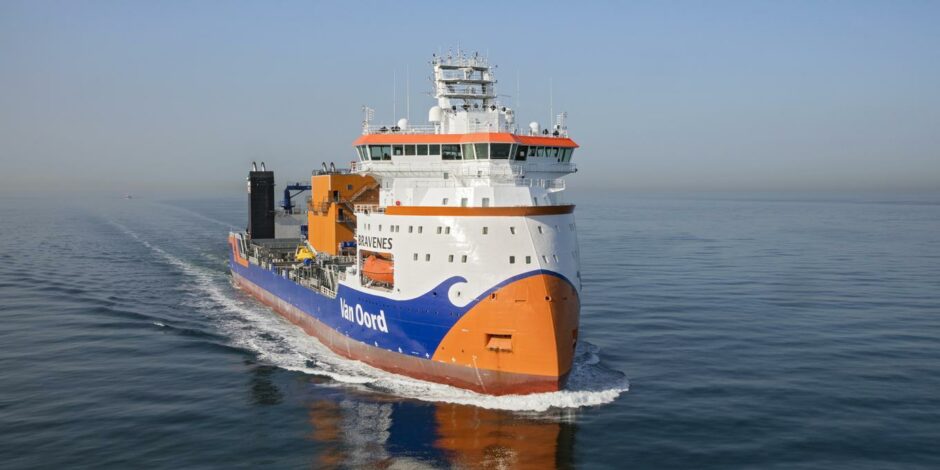 Dutch marine contractor Van Oord is to install scour protection around the 114 wind turbine foundations at the Seagreen offshore wind farm, off the coast of Angus.
Work began in October 2021, following the award by the project's primary contractor, Seaway 7.
Turbines at the 1.1 GW wind farm, located some 16 miles off the coast of Angus in Scotland, will be installed on three-legged jacket foundations.
Global Energy Group took delivery of the first instalment of jackets back in August, at its Port of Nigg facility in the Cromarty Firth.
The first foundations at the £3 billion project were installed in early October using the Saipem 7000 semisubmersible crane vessel.
After the jackets are installed, scour protection is required to avoid the effects of erosion, and involves high-precision rock installation around the jackets.
Van Oord is using its high dynamic flexible fallpipe vessel Bravenes, outfitted with an automated fallpipe system that can be skidded over the side of the vessel for high-precision rock placement.
It said this system enables accurate and efficient rock installation in close vicinity to the jacket foundations, in tandem with a remote operating vehicle (ROV).
In addition, flexible fallpipe vessel Nordnes will be deployed to install scour protection on several cable crossings. All subsea activities will take place in water depths of up to 50 metres.
First power from the project is expected by early 2022, with the windfarm expected to enter commercial operation in 2023.
The development is jointly owned by SSE Renewables (51%) and French oil major TotalEnergies (49%).
Once complete, the offshore wind farm will be "Scotland's largest", and the "world's deepest", fixed-bottom offshore wind farm.
Recommended for you

Over 100 jobs secured at Nigg as Global Port Services lands Seagreen contracts