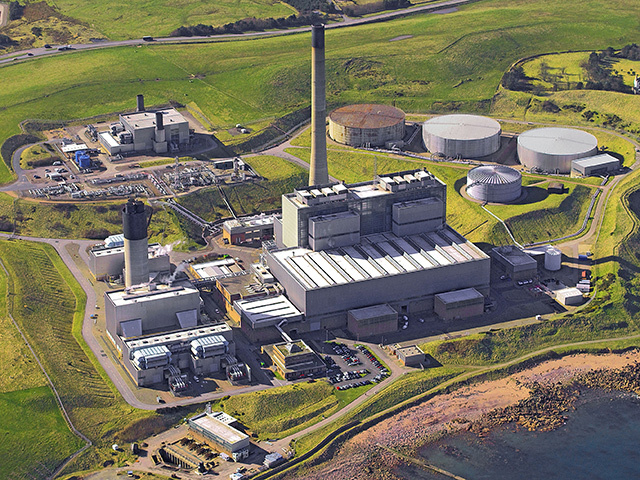 THE north-east  could miss out on £1billion of funding to develop a pioneering green energy technology if Scotland votes for independence.
UK Energy Secretary Ed Davey has said the coalition government would be forced to "think twice" about giving its backing to a groundbreaking carbon capture and storage (CCS) project at Peterhead.
A scheme put forward by Shell and SSE for the Aberdeenshire town's gas-fired power station is one of two preferred bids for Westminster's £1billion CCS fund.
A final decision is due to be taken by UK ministers in early 2015 on whether to support the Peterhead project or one at a coal-fired plant in Yorkshire – or both.
But with Scotland's independence referendum due months before, in September next year, fears have been raised that a Yes vote could derail the ambitious plans for the Buchan port.
The SNP dismissed Mr Davey's comments last night as just the latest in a series of "threats and sabre-rattling" from UK ministers on the independence issue, predicting it would "backfire".
The Peterhead scheme would be aimed at proving CCS technology can work and become a key weapon in the battle against climate change by capturing 90% of the carbon dioxide from part of the power station, before pumping it into a depleted North Sea gas reservoir.
A Scottish Enterprise study predicted it would help create 1,000 jobs in the north-east.
Asked by the Press and Journal if a Yes vote in the referendum would mean Peterhead missing out on the £1billion, Mr Davey said: "Well, we would think twice, wouldn't we?
"But we're not preparing for that because I want to support CCS in Scotland and England because I'm secretary of state for energy and climate change for Scotland and England.
"This government located the Green Investment Bank in Edinburgh because we're the government for the whole of the Untied Kingdom. I put forward the first-ever proposal for getting the wind and tidal energy from Orkney, Shetland and the Western Isles."
The Liberal Democrat minister called for the SNP to come forward with its own proposals, suggesting the Scottish Government could later "buy out" Westminster's share of the funding.
"Of course it would change were the Scottish people to vote yes, but I don't yet know what the policy would be, what the proposal is from the SNP for how they would manage that, so it's very difficult for me to know," Mr Davey said.
"Maybe they would pay us. Maybe the Scottish Government would pay the UK Government to continue with the CCS project, buy us out. I've no idea. They've got to come up with the answers. It's not my job."
Last night, Banff and Buchan SNP MP Eilidh Whiteford said: "Given that the UK Government have been "thinking twice" about CCS in Peterhead on and off for the last seven years, it's a bit rich for UK ministers to indulge in scaremongering at this late stage.
"If we had decision-making powers in Scotland, we would have been able to progress with this project a long time ago."
Peterhead was put forward previously as a potential base for a BP-led CCS development but the scheme was abandoned in 2007.
Shell and SSE's plans for the power station emerged as a front runner for the government's £1billion fund in 2011 following the collapse of plans to build a CCS facility at a coal-based plant at Longannet, in Fife.
A spokeswoman for Scottish Energy Minister Fergus Ewing said: "The simple fact is that the rest of the UK needs Scotland's vast energy resources – including our huge green energy potential – to keep the lights on, and that will still be the case after independence.
"Threats and sabre-rattling from UK ministers will only backfire, just as has happened with Westminster's cack-handed briefings about Trident and Faslane."