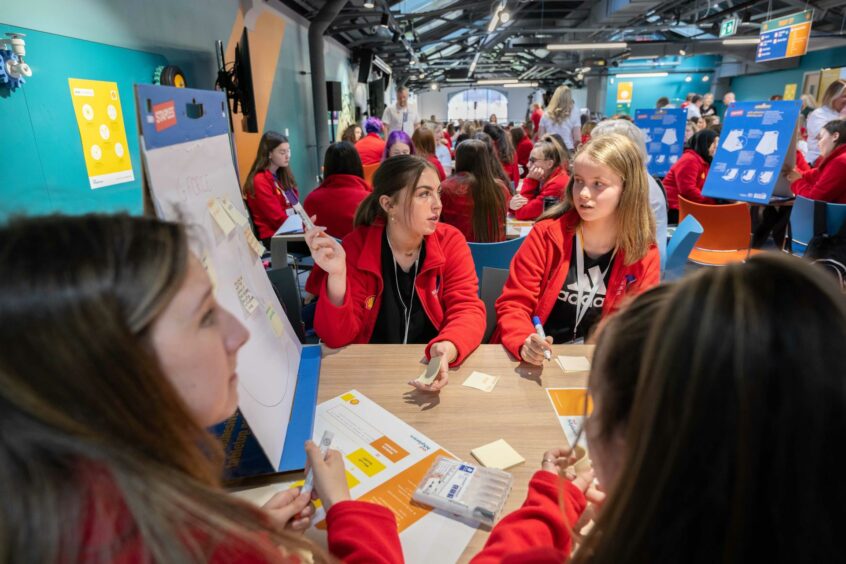 Girls from across north-east Scotland have been teaming up to solve energy challenges at an annual conference in Aberdeen.
Around 120 young women attended the STEM event at Aberdeen Science Centre on Friday, delivered in partnership between North East Scotland College (NESCol), Fife College and Shell.
The programme has been specifically designed to encourage young women to engage in the STEM subjects of science, technology, engineering and maths, and to consider a career in the vast energy sector as it transitions towards Net Zero.
Throughout today, the girls worked in 20 teams of six, each supported by a mentor from Shell, to tackle challenges around energy, food and water, which will be set for them by facilitators.
Following a Dragon's Den style pitch challenge, Kya Duncan from Fraserburgh Academy, Iris Gauld from Turriff Academy and Ella Penny from Mintlaw Academy (Team 20), impressed the judges and were announced winners.
The school pupils worked to identify a way to help reduce the cost of living and presented their solution, Musketeers Closet, a place where people can borrow items of clothing through a membership system. The idea aims to limit waste, costs and single use purchases while emphasising the best thing to wear is a good attitude.
Judges Gillian Martin MSP, Bethan Vasey, energy transition manager at Shell and Mandy Gloyer, new UK offshore sites manager for renewables at ScottishPower were the "dragons" assessing the girls' pitches.
The Girls in Energy conference runs as part of the academic year and provides young women with real-life experience of working in the energy industry while also working towards an SQA National 5 qualification. This year, 140 pupils from schools across Aberdeen, Aberdeenshire and Fife are took part in the programme.
Simon Roddy, senior vice-president upstream at Shell UK said: "With our world advancing through myriad developments in science and technology, the ingenuity of our people is playing a vital role in those changes, for example in the transition to a low carbon economy. These qualities will be key to the UK's economic success.
"It is so encouraging to see people taking their first steps to a career in the energy industry – especially young women. By linking real life and learning experiences, we aim to nurture the next generation of problem-solvers, leaders and innovators, as well as grow the UK's skills base and pipeline of scientists and engineers."
Duncan Abernethy, NESCol's director of business development, said: "We are incredibly proud of the Shell Girls in Energy programme and the annual conference is an opportunity to showcase the knowledge, innovation and energy of participants from across the region.
"It is also an excellent forum for the College and Shell to underline the commitment to diversity and sustainability that underpins our very successful partnership. Girls in Energy provides a well-established pathway to progression in education and employment for participants and the pupils taking part will be central to providing the solutions to future energy challenges that impact upon us all."
The Girls in Energy programme was launched in 2010 and since then, more than 1,000 school pupils have taken part in the programme, with many of those going on to pursue STEM-related or energy sector careers.
The modules include an introduction to energy, domestic wind turbines and solar hot water systems, employability and careers and oil & gas extraction.
Participants sign up to a mix of theory and workshop study as well as industry visits, with the opportunity to chat to women who are working in different roles in the oil and gas and renewables sectors.
Every year, following an interview and selection process, 20 students are offered a two-week industry experience placement with Shell in Aberdeen, giving them the opportunity to hear at first-hand about the various roles and challenges which support Shell's exploration, development and production activities.
Places are available for the next intake of pupils.
The North-east programme is open to school pupils from across Aberdeen and Aberdeenshire. Schools interested in participating should email dduncan@nescol.ac.uk
For more information, please visit https://www.shell.co.uk/sustainability/society/supporting-stem/stem-in-schools/girls-in-energy and https://www.nescol.ac.uk/courses/skills-for-work-national-5-girls-in-energy/
Recommended for you

Aberdeen students decide on career after 'Girls in Energy' event