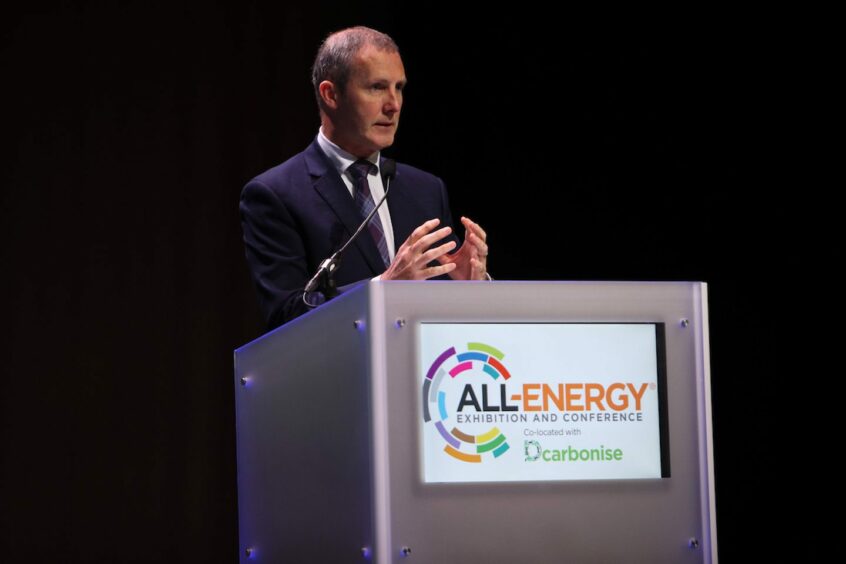 Scotland's net zero secretary said the country's oil and gas expertise and close links with Europe would open new hydrogen export opportunities, but stressed it must also bring local investment.
Speaking during a panel session on an integrated energy vision for Scotland during the All-Energy conference in Glasgow, Cabinet Secretary for Net Zero, Energy and Transport Michael Matheson said the country was in "a really good place" to develop and expand sectors such as hydrogen and carbon capture – and to reap their economic benefits.
Mr Matheson said he had witnessed "real appetite" for the technologies at a pan-European level during the World Hydrogen Summit in Rotterdam earlier in the week.
"Many of those countries that are moving into hydrogen do not have the muscle memory, do not have the skill set and the expertise and knowledge that we have, because of our oil and gas sector," he said.
He said the importance of that expertise was why the Scottish government would be taking forward a refreshed Energy Strategy, alongside a sector-specific 'Just Transition plan' which will set out how it intends to support workers moving from hydrocarbon-based industries to "low-carbon green industries."
However, March saw the Scottish government delay publication of the plan, pushing back its original spring 2022 release date into the autumn.
Speaking at the time, Mr Matheson said the revised timeline would "allow time for robust evidence and analysis" and would include ongoing projects and take account of the UK government's latest Energy Security Strategy.
Looking again to Europe, Mr Matheson emphasised Scotland's geographic proximity which he said would help ensure security of supply of new low-carbon commodities.
"The shorter your supply chains are there, the lower the risk is of disruption and unintended consequences, which is why countries such as Scotland can play such an important part in helping to support the build out of those energy markets in the future," he explained.
However, he said this must also bring benefits to domestic supply chains, stressing that "the last thing that Scotland should become is simply a production source for electricity and for hydrogen."
"It must also become a centre of excellence and a manufacturing home for the technologies that will be required to deliver the integrated energy systems of the future," he continued.
Acorn CCS
Describing the build out of new zero emission technologies as a "necessity" he again called on the UK Government to support the Acorn carbon capture and storage project in future funding rounds.
"It's absolutely critical that we see the Acorn project in the Scottish Cluster given the green light when the UK Government gets round to the track two process," he continued.
"It is critical to delivering climate change targets and becoming net zero by 2045, but it will also be critical to other parts of the UK and, because of its import potential, critical to helping to support countries across Europe in reducing their carbon emissions," he continued, noting that CCS too was a sector in which Scotland could capitalise on its oil and gas expertise.