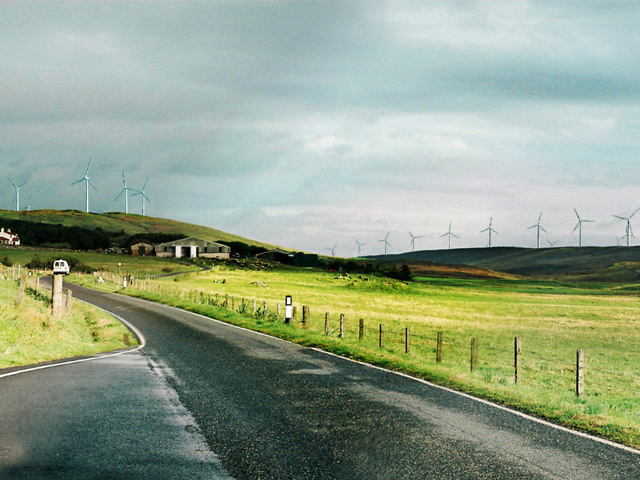 A court ruling to block a huge windfarm in Shetland has driven a "coach and horses" through the planning system, it was claimed last night.
The Scottish Government is appealing against a judgment by Lady Clark of Calton overturning its decision to approve the 103-turbine Viking Energy development.
The Court of Session judge found that Viking Energy and partner SSE had failed to get an electricity generating licence and that proper consideration was not given to theEuropean Wild Birds Directive.
Anti-windfarm campaigners believe the ruling has wide implications for larger developments.
However, renewable energy supporters are puzzled and claim electricity generating licences have never before been an issue in planning consent.
Viking Energy won permission for the £556million scheme despite massive opposition.
Last week, Lady Clark backed a judicial review by Sustainable Shetland blocking the scheme.
Shetland MSP Tavish Scott said while a licence might have to be in place when a project was connected to the grid, he could not fathom how a "element of paperwork" could scupper construction as the licence had never been required for planning consent as far as he was aware.
"Lady Clark seems to have driven a coach and horses through existing practice," he said.
"I assume she must be pretty sure of her ground to come to that judgment. It is therefore no wonder the Scottish Government is appealing it."
READ MORE
Infographic: Scotland's windfarms
Analysis: Ruling brings uncertainty for onshore wind industry
Windfarm ruling sparks new Trump bid to stop EOWDC
Anti-windfarm group Scotland Against Spin suggested hundreds of planned wind energy schemes now faced uncertainty, delay and expense.
They said Lady Clark's ruling casts doubt on the Scottish Government's power to grant consent to non-licence holders.
Scottish Borders Council has already written to the government asking that an application for the Rowantree windfarm near Oxton be "immediately refused".
SAS chairman Graham Lang said: "There is little doubt other hard-pressed local authorities will follow in Borders' footsteps.
"Scotland is being besieged by speculative windfarm applications which are time consuming and expensive for local planning departments, and increasingly unpopular with the communities they threaten."
Mr Lang added that anti-windfarm campaigners across Scotland had taken legal advice, which said Lady Clark's ruling applies to all windfarm developments of 10MW or more.
He added: "Since very few applicants will have Ofgem licences or exemption from the department for energy and climate change before consent, objectors to applications for 10 MW-plus windfarms currently in the planning process will be arguing that these should be refused by planning committees and reporters without further ado.
"It's no surprise the Scottish Government is appealing Lady Clark's ruling. It could hardly do anything else."
First minister Alex Salmond and Energy Minister Fergus Ewing both refused to comment yesterday as the legal process is under way.
But the Scottish Government insisted it would press ahead with its appeal against Lady Clark's ruling.
Councils and the renewable energy industry are still looking at the ruling to gauge what implications it may have.
A Scottish Government spokesman said: "Scottish ministers have decided to appeal the judgment and will lodge that appeal in the days ahead.
"Ministers do not agree that the application was incompetent under Schedule 9 of the Electricity Act, nor do they agree that they failed to take proper account of their obligations under the EU Wild Birds Directive in the decision-making process."
Aberdeenshire Council head of planning and building, Robert Gray, said: "We will study this ruling and consider any implications it may have for past and future windfarm applications in Aberdeenshire."
The initial feeling among planners at Moray Council is the ruling will not affect them.
A spokesman said: "The court ruling appears to be based on specific issues relating to one particular development and, although we still have to study the judgment in detail, it does not appear to have direct implications for Moray."
A spokesman for the industry body Scottish Renewables said: "The Scottish Government clearly believes that the ruling was incorrect. Ministers have confirmed that they are lodging an appeal and we await the outcome of that process."
Viking Energy said it could not comment as Lady Clark had yet to issue her interlocutor, which sets out the details of her decision.