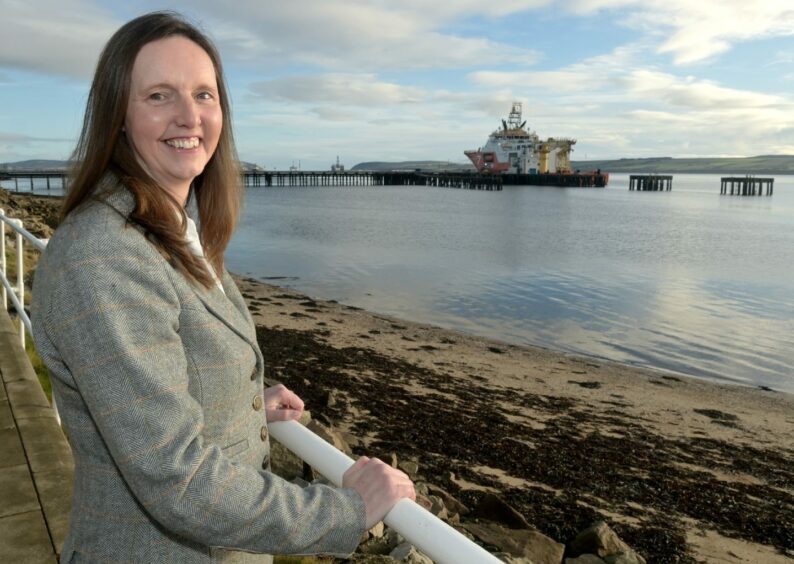 A business chief delivered a rousing speech on the potential for offshore wind to revitalise the Highlands and Islands during a major industry event on Wednesday.
Joanne Allday of Port of Cromarty Firth told Scottish Renewables' Offshore Wind Conference 2023 in Glasgow that there is a chance to "help decarbonise the whole world from Scotland".
Key to that ambition will be harbour facilities in and around the north of Scotland, which will become hubs for the deployment of turbines.
And the hundreds of green jobs that will be created as a result of the renewables boom present an opportunity to "reverse multi-generational depopulation" in the Highlands and Islands.
That "levelling up" aspect was a big pull in Cromarty Firth's successful bid to secure green freeport status, Ms Allday told the packed out event.
She said: "Projections for population in the Highlands is that 10% of working people will be gone in the next decade. That's what happens in the Highlands – it looks like our unemployment figures are low, but that's because if you can't find a job, you move."
"Government typically hasn't invested in the Highlands," Ms Allday said, but "one of the reasons we won a freeport is because of the levelling up argument.
"We've got an opportunity to reverse multi-generational depopulation, repopulate the Highlands, and use the resources that are there as our natural assets."
She added: "We can deliver net zero. We can deliver net zero for Scotland, for the UK. If you've got to put some infrastructure in place, then surely it's worth doing. We can help decarbonise the whole world from Scotland – that's the legacy that we're staring at if we grasp it."
Forth and Firth looking to the future
Alongside Forth, Cromarty Firth was recently announced as one of the winners of the UK and Scottish Government's green freeport competition – Aberdeen's bid fell short, to the anger of many.
Work is now underway to create large zoned areas in both regions that will benefit from a package of tax and other incentives, designed to boost economic growth and deliver the energy transition.
A share of £52 million in funding, tax and customs allowances will also be dished out to Cromarty Firth and Forth.
Skills an industry wide problem
Questions remain though around whether there will be enough pairs of hands to deliver the myriad of low carbon projects coming over the hill.
Asked if the Cromarty Firth's rurality means it will struggle to attract workers, Ms Allday said: "We don't consider that we're in a remote rural area."
She added: "The fact is that we have probably the biggest industrial pipeline opportunity that Scotland has seen in recent times, and will see in the coming decades.
"If all of this was happening off Aberdeen, there would be all the same problems with finding labour. Analysis we carried out as part of our freeport bid suggest that we're probably going to create around 25,000 jobs: 15,000 of those will be in the Highlands.
"You put that anywhere in Scotland and that's a problem, and it's one we need to work together to solve."