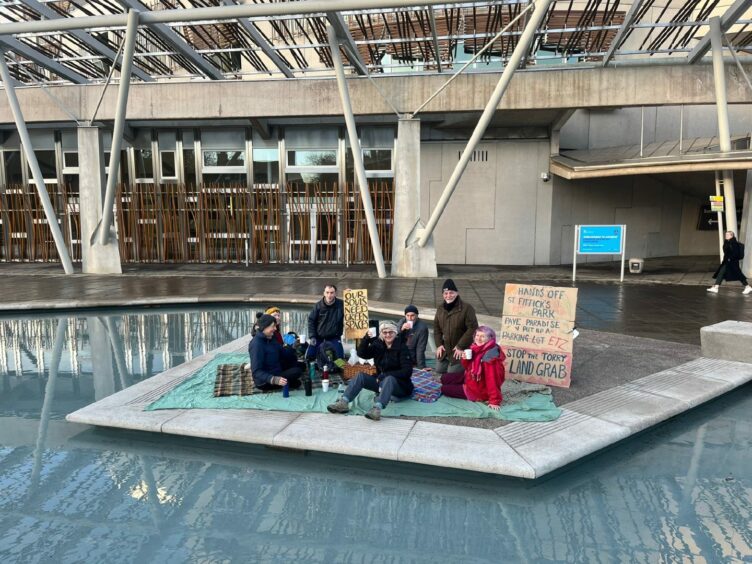 Campaigners fighting to save an Aberdeen park from development have staged a "picnic" protest outside Holyrood.
Friends of St Fittick's Park took a stand against plans to turn Torry's "last green space" into an Energy Transition Zone (ETZ).
Land at St Fittick's Park and Doonie's Rare Breeds Farm have been earmarked for the new development which would help the UK and Scotland reach its net zero targets.
Residents in Torry, however, have raised a myriad of concerns about the proposals, saying this would have a "detrimental" impact on the local community.
For the last few years, campaigners have staged a number of rallies – including outside parliament earlier this month – to show their strong discontent with the project.
And this morning, they once again held a demonstration with "Hands off St Fittick's Park" banners to voice their worries ahead of crunch talks at Holyrood later this week.
Planning minister Tom Arthur will have his say on the proposals after the council approved the Aberdeen Local Development Plan 2023 in December, giving developers the go-ahead to concrete the park.
It comes after LTZ Ltd – the company behind the project – revealed revised blueprints for the development, claiming that two thirds of the park would be untouched.
However, Friends of St Fittick's Park were not reassured by the update and vowed to continue fighting the proposals – with more protests planned for further on this week.