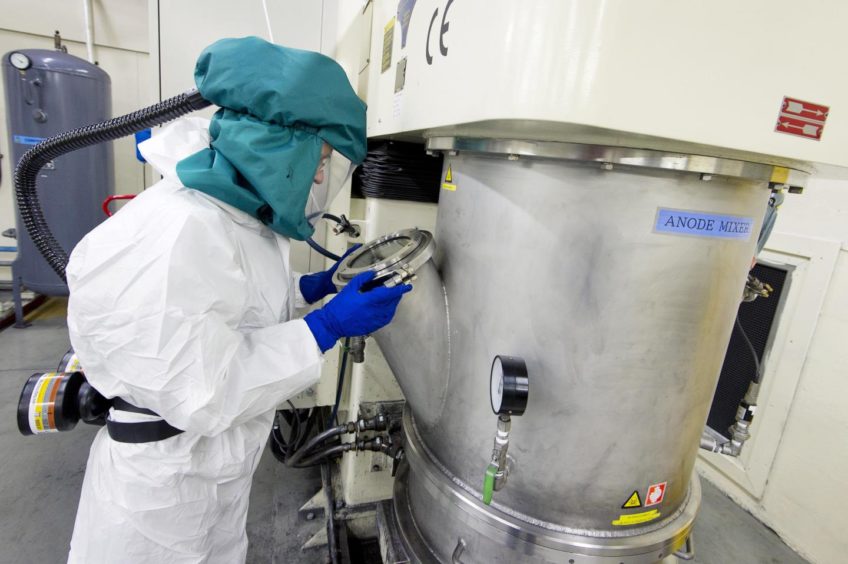 Dozens of jobs in Caithness and a £160 million "gigafactory" planned for Dundee are under threat after battery-maker AMTE Power (LON: AMTE) said it was running out of cash.
The Thurso-based company warned it needs a fresh injection of capital "within no less than the next four weeks".
Shares in the Alternative Investment Market-listed firm crashed more than 73% this morning, wiping more than £2m off it's market value.
Investment in Thurso
AMTE's bosses are busy trying to convince potential backers the business has good long-term prospects if they can only resolve its immediate "reducing cash position".
The company employs 35 people in Thurso, where it manufactures its two core product battery cells – Ultra Prime and Ultra Safe. Investment has recently gone into ramping up production there.
AMTE announced last July it would build its first "gigafactory" at the former Michelin site in Dundee, creating 215 direct and 800 indirect jobs. The facility is expected to be up and running by the third quarter of 2025.
Earlier this year, AMTE suggested it could be tempted to relocate to the US to take advantage of green subsidies across the Atlantic – but it also highlighted its commitment to Dundee. The proposed gigafactory is expected to be capable of producing more than 8 million battery cells a year, allowing AMTE to rapidly scale up production.
The preferred site is the Michelin Scotland Innovation Parc (MSIP), a joint venture between French tyre giant Michelin, Scottish Enterprise and Dundee Council.
Dundee units still on the market
MSIP chief executive Greig Coull said: "We are sorry to hear of today's news regarding AMTE Power's financial situation.
"Whilst AMTE Power has announced MSIP as its preferred location, our large industrial units remain on the market and we continue to show them to other interested parties.
"We have a number of companies actively looking at those spaces, and we will continue to promote them as the place for large scale manufacturing to locate in Scotland. We will share any news on that as it progresses."
AMTE specialises in lithium-ion and sodium-ion batteries for energy storage and electric cars.
It warned last December it would need to raise additional capital by April 2023 in order to meet its then current operating costs.
The company subsequently secured a £580,000 loan from Highlands and Islands Enterprise to support its operation in Thurso.
On March 31 the firm said it had drawn down a new £580,000 loan facility. Less than a month later it announced it had secured an additional £1m through a convertible loan.
'Active discussions are ongoing'
Updating the market on its finances today, AMTE said: "The company has subsequently been in, and continues to be in, discussions with potential investors concerning raising further finance.
"The company needs to conclude some form of fundraising within no less than the next four weeks.  Whilst active discussions are ongoing, there can be no certainty of the outcome of these discussions.
"Should the company be unable to secure additional funding, the prospects for recovery of value, if any, by shareholders would be uncertain.
"Further announcements will be made as and when appropriate."
AMTE was founded in 2013 and joined the AIM market in March 2021.
Its purpose-built cell manufacturing facility in Thurso is the second largest in the UK.
The company also has a product development team based in Oxford, part of a 75-strong total workforce.
Chief executive Alan Hollis said: "AMTE Power is the UK's only remaining homegrown commercial battery cell maker.  We have established ourselves as a leading player in the sector, with differentiated lithium and sodium-ion technology on the cusp of commercialisation.
"We are active in our engagement with stakeholders to raise funding and to communicate the importance of developing a homegrown battery manufacturing industry to enable a just transition to net-zero, support the UK's energy security and unlock green industrial growth."
Recommended for you

Cash-strapped Thurso battery firm AMTE Power unveils £2.5 million buyout deal