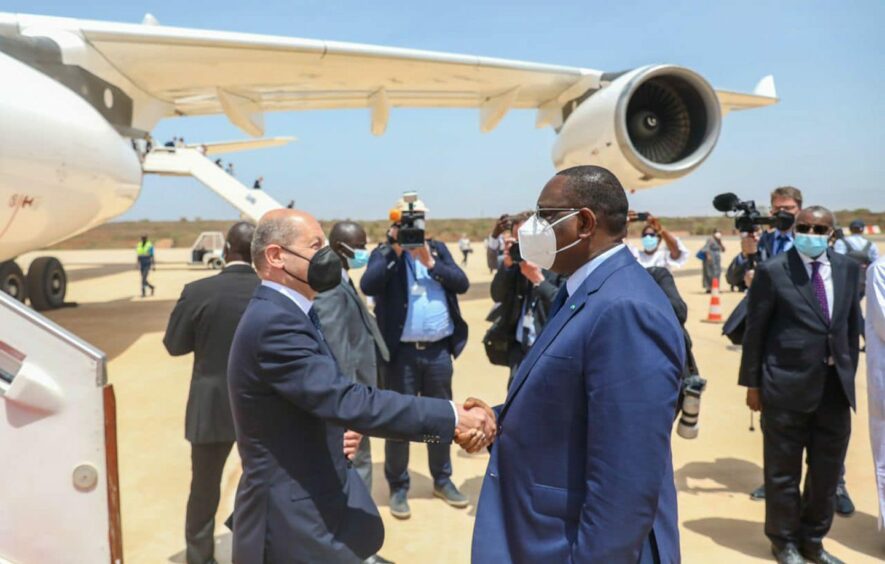 Senegal has officially become the fourth country to sign up to the Just Energy Transition Partnership (JETP).
The UK, France, Germany, the European Union and Canada have backed the JETP plan to help Senegal achieve "universal access to energy and consolidate a low-carbon, resilient and sustainable energy system".
The deal was signed at the Summit for a New Global Financing Pact in Paris.
International partners and multilateral development banks will provide 2.5 billion euros ($2.7bn) over an initial period of three to five years, starting in 2023. The statement on the deal said more financing could be provided "during and beyond" that period.
The aim is to accelerate the provision of renewable energies in order to make up 40% of Senegal's electric mix by 2030. The JETP will also publish a plan for a long-term emission development strategy by COP28, with more details in 2024.
Senegal is due to publish its nationally determined contribution at COP30. This will "reflect the enhanced climate ambition of this new energy strategy". The country will also draft an investment plan in the next 12 months. This will identify needed investments and opportunities in order to deliver the just transition.
Energy access
South Africa was the first country to sign up to JETP, with an $8.5bn pledge. Subsequently, Indonesia and Vietnam have also launched their own JETP plans. The US signed on to back these first three, but was not mentioned in the Senegal plan.
Senegalese President Macky Sall said African economies were facing "multifaceted crises" that put strain on "efforts devoted to economic development, access to energy and industrialisation".
The JETP plan "will make it possible to support the Senegalese dynamic that we started several years ago of incorporating renewable energies into our energy mix and securing our energy system thanks to all our natural resources in line with the Paris Agreement".
Senegal has an electrification rate that is high for West Africa, at around 79%, but it falls to below 50% in the rural areas.
UK Prime Minister Rishi Sunak welcomed the deal with Senegal. "Senegal has ambitious plans to drive economic growth and create a more prosperous future, and this partnership will deliver vital investment into Senegal's renewable energy infrastructure and help provide access to clean and affordable energy for all," he said.
Competing with gas
The JETP is a means of driving foreign investment into Senegal's power sector. However, there are other projects under way in the country – that rely on gas.
The 300 MW Cap des Biches combined cycle gas power plant is under construction. Afreximbank has signed up to finance a 250 MW CCGT and pipeline at Saint Louis.
The JETP declaration noted that Senegal planned to use its gas resources "as a transitional energy". Using gas, it said, would provide a "significant decrease in emissions" compared with its baseline scenario, through phasing out heavy fuel oil.
South African President Cyril Ramaphosa also attended the French summit.
"Countries going through a Just Energy Transition need to be clear about how they define 'just', particularly with respect to social impact. Given South Africa's current energy crises, we have come to realise that flexibility is key," he said. "Countries must be able to decide on a transition pathway that takes into consideration development objectives such as energy security.
Recommended for you

Delays pose 'significant risk' to UK CCS targets