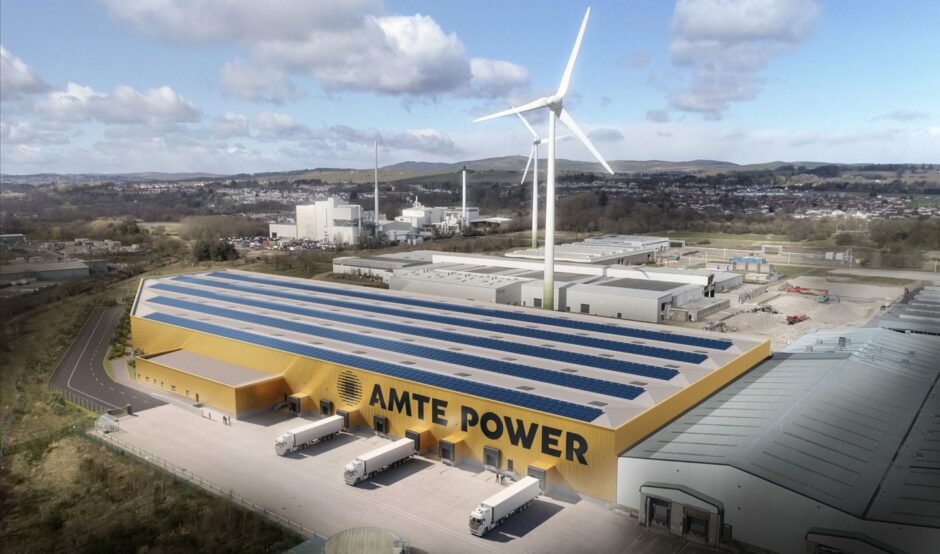 AMTE Power, the Thurso-based battery-maker behind plans for a £160 million "gigafactory" in Dundee, has won a stay of execution in its battle for survival.
The troubled company said today it had secured a £1 million bridging loan, giving it ample breathing space to sew up a proposed new equity investment worth £2.5m.
AMTE's loan from New York-headquartered Arena Investors has no interest payments attached.
But it does carry a 10% surcharge and Arena now holds security over AMTE's assets.
AMTE expects to draw down £500,000 from the total loan within two business days.
The rest of the cash will be made available only after "mutual written consent between Arena and the company".
AMTE's mooted cash injection would give an unnamed equity investor an 80% stake in the business.
It would give AMTE "sufficient financial resources" to stay in business only until the end of September.
Takeover by new investor still up in the air
But the proposed new backer has indicated it may "implement a financial solution" for the longer term, including it "providing for future funding requirements". The new owner, if a deal goes ahead, would also have "sole discretion" to allow other parties to share its initial investment.
AMTE stressed the exact terms and size of the proposed investment and "any funding beyond" have yet to be agreed and the overall deal remains "uncertain at this stage".
'Much needed further investment'
Chief executive Alan Hollis added: "I am very pleased to announce the bridging loan to be provided by Arena, which buys AMTE Power the time and financial resources to allow the equity investor to complete its due diligence and internal procedures ahead of some much-needed further investment in the business."
AMTE announced last week its financial situation was "becoming ever more critical" and it may be just days away from administration.
Dozens of jobs in Caithness and the "gigafactory" planned for Dundee are under threat.
AMTE also warned the prospects of shareholders getting their money back in the event of an administration "would be remote". Shares in the firm plummeted after the update.
The company specialises in lithium-ion and sodium-ion batteries for energy storage and electric cars. It  was founded in 2013 and joined London's Alternative Investment Market in March 2021.
Its purpose-built cell manufacturing facility in Thurso is the second largest facility of its kind in the UK.
The firm also has a product development team based in Oxford, part of a 75-strong total workforce.
AMTE announced last July it would build its first "gigafactory" at the former Michelin site in Dundee, creating 215 direct and 800 indirect jobs. It is expected to be up and running, producing more than 8 million batteries a year, by the third quarter of 2025.
First signs of trouble
The company warned last December it would need to raise additional capital by April 2023 in order to meet operating costs. It subsequently secured a £580,000 loan from Highlands and Islands Enterprise to support the operation in Thurso.
On March 31 the firm said it had drawn down a new £580,000 loan facility. Less than a month later it announced it had secured an additional £1m through a convertible loan.