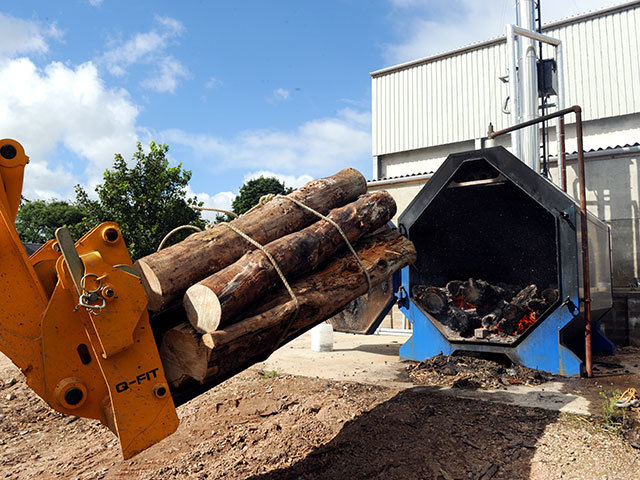 A new revolutionary clean biomass fuel could be replace coal in power stations its developers claim.
The environmentally-friendly process cleanses the raw biomass by removing salts, minerals and other contaminants that harm the atmosphere and damage power plant furnaces.
A new UK company AEG Coalswitch – a joint venture between UK timber processor Active Energy Group and US firm Biomass Energy Enchancements – has been formed to exclusively commercialise the process.
AEG CoalSwitch intends to partner with coal-fired power station owners and operators across the globe to enable them to reduce their use of coal.
The processing system, which BEE has been developing for the past seven years, has the potential to be a game-changer for the global power generation industry, the company claims.
Uniquely, the process can be used on previously unusable or economically unviable waste timber, such as contaminated or redundant industrial residues, such as sawdust, demolition and construction materials; and even chemically-treated wood, such as railway sleepers.
The finished fuel contains similar properties to coal, enabling it to be used in existing coal-fired power stations without costly retro-fitting, reconstruction or output losses and can be handled and processed at power stations using the same equipment currently used to handle and prepare coal.
AEG Coalswitch chief executive Chas Fritz, said: "Our primary goal at BEE was to make the unusable usable. According to the US Department of Energy (DOE), over 93 million tonnes of forestry residues are left to rot each year in the United States alone – the global figure is vastly higher. And that doesn't include waste timber from sawmills, construction sites and other industrial uses such as redundant railroad ties."
"Our unique Biomass fuel processing system speedily and efficiently converts all of that material into compacted fuel that can immediately be used in power stations as a direct 'drop-in' replacement for coal to generate clean energy."
Richard Spinks, chief executive of Active Energy Group, added "By utilising our sustainable clean energy Biomass fuel, coal-fired power generators across the globe can choose to 'go green' – improving air quality and contributing to arresting climate change – faster than was previously possible, without investing huge sums in upgrading and converting their power plants; enabling them to avoid the other option… being forced to close."
The announcement comes just weeks after President Obama's speech setting stringent emissions reductions targets on US energy producers and just days after the owners of the Eggborough coal-fired power plant in Yorkshire announced that they would be closing the 2,000MW facility in March 2016 – with the loss of 250 local jobs and 4% of the UK's electricity generation capacity – due in part to the lack of government funding required to convert it from coal to traditional biomass fuel operation.
AEG CoalSwitch is aiming to have a market-ready product, capable of producing high volumes of clean energy 'coal switch' biomass fuel, by mid-2016.
Recommended for you

Chancellor's new support will be 'defining moment' for UK CCS