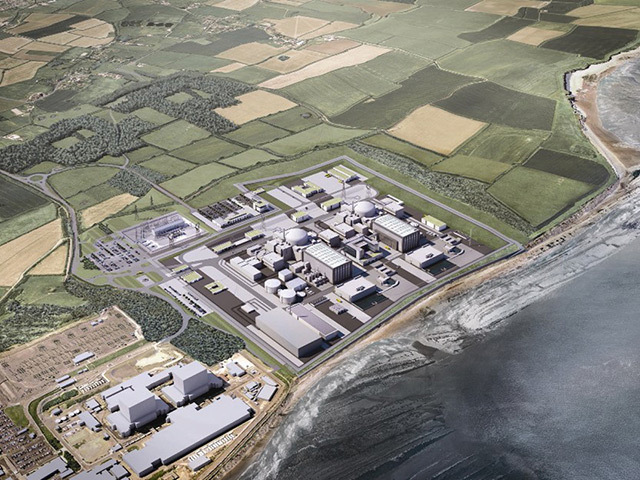 Plans for the first UK nuclear power plant in a generation are set to be given a boost today with confirmation of Chinese investment in the multi-billion pound scheme.
French energy giant EDF will give an update on its new site at Hinkley Point in Somerset as it prepares to make a final investment decision.
An announcement will be made on the second full day of a visit to the UK by Chinese president Xi Jinping.
He is due to attend a UK-China business meeting with Prime Minister David Cameron at which the nuclear project will be discussed.
There has been speculation that China will own a third of the new power station, which was priced at £16 billion in 2012, but is set to cost over £24 billion when inflation and financing costs are taken into account.
The completion date has slipped from its original 2023, with EDF yet to give a new date for when the reactor will start generating power.
Construction of Hinkley Point C will create 25,000 employment opportunities and will support 900 direct jobs during its 60-year lifetime.
The project also aims to create 1,000 apprenticeships alongside £14 million of investment in education and training.
EDF announced preferred bidders in contracts worth a total of more than £1.5 billion earlier this year.
It is now estimated that contracts worth more than 60% of the construction cost for Hinkley Point C will be placed with UK firms, against an initial estimate of 57%.
EDF Energy chief executive Vincent de Rivaz, said: "Hinkley Point C offers the UK a tremendous opportunity to boost employment and skills in the crucial manufacturing and construction sectors, as well as leading the revitalisation of the new nuclear programme.
"Together with suppliers and our partners we have created a supply chain ready to build Hinkley Point C, which will help the UK meet its future need for reliable low carbon electricity."
A spokesman for the Department of Energy and Climate Change said: "The UK Government and EDF are continuing to work together to finalise the Hinkley project which will power nearly six million homes and create more than 25,000 jobs. The deal must represent value for money and is subject to approval by ministers."
Greenpeace said a multi-billion-pound subsidy deal to build a new fleet of three nuclear reactors at Hinkley, Sizewell, and Bradwell will add an estimated £33 a year to the average UK household bill for more than 30 years.
Barbara Stoll, Greenpeace UK energy campaigner, said: "It appears that there is one rule for renewables and one rule for nuclear.
"The Energy Minister was clear that the subsidies for the nuclear industry can last for 30 years, yet she's expecting the solar sector to be subsidy free almost immediately. This is despite thousands of jobs and millions in investment being at risk.
"With the right support, renewables can help keep the lights on at a viable cost and without requiring controversial deals with foreign state-owned energy giants."
Friends of the Earth chief executive Craig Bennett said: "George Osborne's desperation to get Chinese investment at almost any cost means a shockingly bad deal for Britain.
"Even with eye-wateringly huge cash subsidies, many experts believe a new reactor at Hinkley will never be built.
"While the nuclear industry is being lavishly wined and dined by David Cameron, the UK renewable industry has been left to survive on crumbs, threatening tens of thousands of jobs.
"The Government's energy strategy is a complete mess. Ministers are pulling the plug on UK wind and solar just as these new power sources are on the cusp of delivering the clean and affordable energy we need.
"The Government must end its love affair with nuclear power and fossil fuels, and build a clean energy system fit for the challenges of the 21st century."