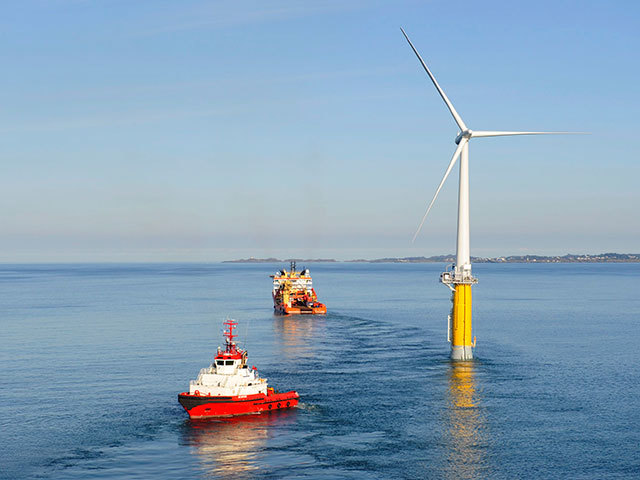 Key equipment for the world's first floating windfarm will be made in Aberdeen and at Nigg Energy Park in the Highlands, it was announced yesterday.
Norwegian oil and gas giant Statoil said it had awarded the multimillion-pound fabrication contract required for its 30 megawatt, £180million Hywind Scotland pilot off the coast of Peterhead to Evanton wave and tidal-energy device manufacturer Isleburn, part of Aberdeen and Inverness-based Global Energy Group.
Global chief executive Iain MacGregor said the deal was "great news for us in the current climate" of challenging times in the energy industry.
"We are having to work extra hard to find work," he said, adding: "We have also been fortunate enough to win work with foreign oil and gas projects that we will build here in Scotland."
Mr MacGregor said the Hywind work and a previous contract to build four tidal-energy devices for the MeyGen project in the Pentland Firth meant Global had secured renewables work worth £10million. He added: "It is really good news for us because Isleburn . . . employs around 700 people in the Highlands. Through difficult times it really sustains employment levels.
"Our expertise is well-suited for this type of project. It is good news in among all the doom and gloom of the industry this year."
Global, owned by Mr MacGregor's father, Roy, and his family, has recently been diversifying its business to reduce its dependence on the oil and gas market.
Isleburn will provide suction anchors for Hywind, which is expected to generate enough energy to power about 20,000 homes after production start-up in late 2017.
Stephen Bull, senior vice-president for offshore wind at Statoil, said: "We are pleased to develop this project in Scotland, with a huge wind resource and an experienced supply chain from oil and gas.
"The suction anchors represent important components in this innovative project."
Recommended for you

Scottish firms receive funding to support offshore wind ambitions