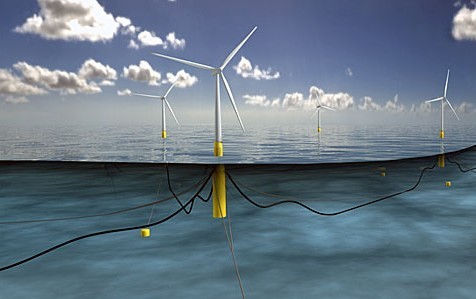 The firm behind ambitious plans to create a floating windfarm off the north-east coast have promised it will deliver a jobs bonanza.
Energy giant Statoil said last night its Hywind scheme would generate hundreds of posts during the construction, 15 miles from shore.
The Norwegian company hopes to instal five huge turbines in the water up to 360ft deep by 2017.
Earlier this month it was revealed work on the windfarm off the coast of Aberdeenshire could begin in the summer.
Ola Aanestad, the firm's head of communication, added that about 10 permanent employees would also be based in Peterhead once the devices are operational.
Mr Aanestad said: "In the construction phase, the location of the jobs are dependent on who wins the contract – hopefully a fair chunk will be in Scotland, but there will also be jobs elsewhere in the UK and internationally.
"Obviously, the onshore construction in Peterhead and the offshore installation and logistics will be local activity. Isleburn won the contract for suction anchors, and fabrication will take place near Inverness."
Construction is expected to start in the summer and Statoil expects the scheme to be fully operational by late 2017.
Mr Aanestad added: "In the operations phase, the permanent operations, maintenance team will be located in Peterhead, but there will also be positions supporting Hywind Scotland from Statoil's Aberdeen office and elsewhere."
Last night, the prospect of new jobs in Buchan was hailed by harbour chiefs and local MP Eilidh Whiteford.
Stephen Paterson, the deputy chief executive at Peterhead Port Authority, said it was "encouraging" so see a new industry develop and offer opportunities to locals.
Ms Whiteford said: "This is great news for Peterhead at a time when there's been a lot of bad news and uncertainty in the energy sector."
The Hywind project will be the first of its kind when built. Rather than being embedded in the sea floor, each of the five 1,000-tonne turbines will be anchored and allowed to float. The concept means they could – be in water deeper than any turbine before, largely out of sight of coast residents.
Recommended for you

Government awards £31m to develop UK floating wind