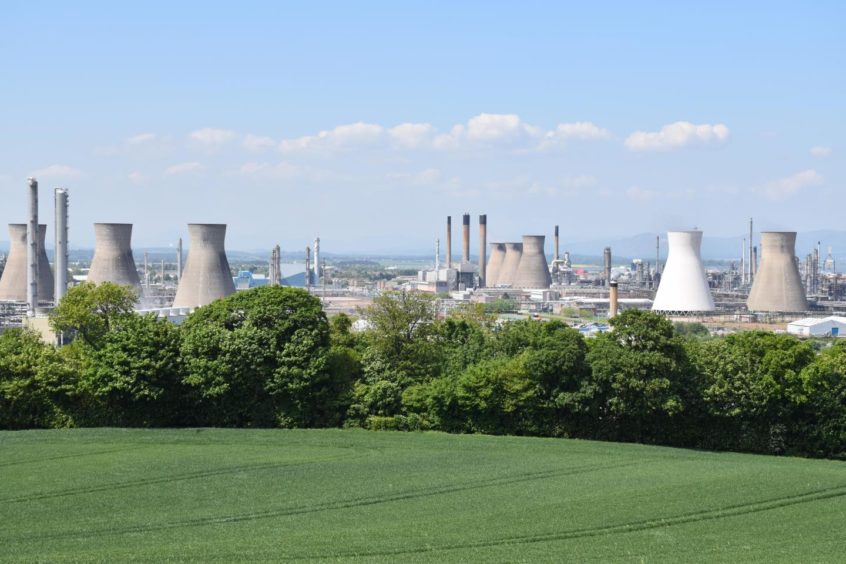 Ineos is to invest more than £1 billion to reduce the environmental impact of its Grangemouth refinery.
The spend forms part of efforts by the petrochemicals giant to reduce greenhouse gas emissions at its facility on the Firth of Forth to net zero by 2045.
It also builds on the £500 million the company has already committed towards projects approved and currently being implemented at Grangemouth.
That includes investment in a new energy plant, which is due for completion in late 2023.
It will supply energy to all site operations, driving down emissions by at least 150,000 tonnes of CO2 per annum.
The 'next phase' for Grangemouth
The latest tranche of investment is designed to move Grangemouth forward onto the "next phase of its journey" to net zero.
That includes delivering emissions savings of more than 60% across the facility – which is operated by Petroineos, a joint venture between Ineos and PetroChina – by the end of the decade.
Since acquiring Grangemouth in 2005, Ineos has delivered a 37% reduction in net CO2 emissions.
Andrew Gardner, chairman of Ineos Grangemouth, said: "Climate change is one of the most urgent environmental, economic and social issues of our time.
"We've set an ambitious plan to achieve net zero by 2045 and today we are announcing the next stage of our road map which includes an investment in excess of £1bn."
Ineos' blueprint involves a move to the production and use of hydrogen by all businesses at the Grangemouth site.
That is accompanied by carbon capture and storage (CCS) of at least a million tonnes of CO2 per annum by 2030.
As well as capturing emissions from existing hydrogen production, the technology will allow for the construction of a "world-scale" hydrogen production plant.
The Scottish Cluster
Earlier this year, Ineos signed a memorandum of understanding (MoU) with Aberdeenshire's Acorn CCS project.
Alongside the scheme's partners – Storegga, Shell and Harbour Energy – Ineos will work to develop Scotland's first CCS plant, connecting the Grangemouth refinery with the St Fergus gas terminal near Peterhead.
If the project gets off the ground, it's claimed it would pave the way for Scotland to hit its target of becoming net zero by 2045.
In order to further axe its emissions at Grangemouth, Ineos has also committed to further investments in energy reduction and optimisation, along with electrification of key equipment.
Moreover, the company plans to shift its "polymer product portfolio" to include higher levels of recycled content as part of efforts to grow a circular economy.
Mr Gardner said: "Our roadmap builds on the significant reductions we've already made at Grangemouth. When Ineos bought the site in 2005 it was emitting around 5 million tonnes of CO2 per year.
"We've already reduced that to 3 million tonnes today. Our next step, to use hydrogen combined with carbon capture via Project Acorn, will reduce this to below 2 million.
"Our Road Map, which extends beyond Project Acorn, has one goal, and that is to safely and efficiently reduce CO2 emissions to zero by 2045."
He added: "We actually have to go much further than the significant CO2 reductions we've achieved already. By 2045 we have to be net zero equivalent and we have to set some really ambitious but achievable targets for ourselves for 2030."
Stuart Collings, chief executive Ineos Olefins & Polymers UK, said: "Our challenge is to deliver a Road Map which ensures a Just Transition to Net Zero. This can only be achieved if we remain globally competitive and we stay ahead of evolving regulations and legislation.
"Hydrogen will play a very important role in the decarbonisation of our manufacturing plants. Building the infrastructure for large scale utilisation of hydrogen creates a foundation to achieve net zero by 2045 and enables wider use of hydrogen by Ineos and others in and around Grangemouth."
Investment will aid decarbonisation of other sectors
Scotland's net zero secretary welcomed Ineos' announcement, highlighting the significance of it to Scotland's energy transition.
Michael Matheson also stressed the importance of the investment to the decarbonisation of "other sectors, sites and regions" around the country.
He said: "Low-carbon hydrogen offers the swiftest decarbonisation route for our industrial sector and today's commitment by Ineos makes an even stronger case for the UK Government to select the Scottish Cluster, which Ineos partnered with in the summer, to be among the first CCS clusters to be awarded funding through its current cluster sequencing process
"Grangemouth, and Ineos itself, already holds a wealth of experience in engineering solutions and hydrogen production, and this new investment holds great potential for the future of Grangemouth, as well as the vital jobs that are located there, as part of our just transition to net zero."
Recommended for you

Energy secretary calls for 'concrete timeline' on Track 2 CCUS projects