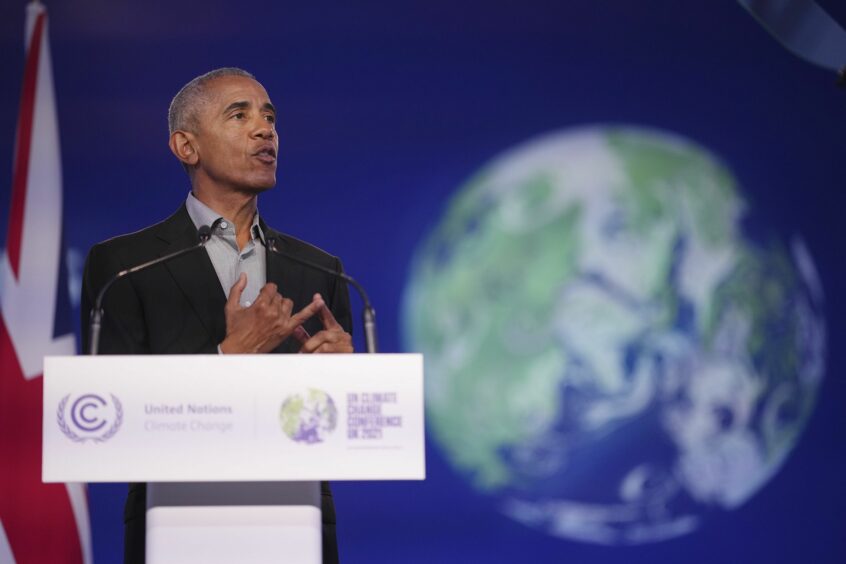 Former US President Barack Obama implored nations to move aggressively against climate change, warning that the world is falling dangerously short of what's needed to tame rising temperatures and prevent disaster.
"We are nowhere near where we need to be," Obama told delegates Monday at the COP26 climate summit in Glasgow, Scotland. "We have not done nearly enough to address this crisis."
Obama's presence comes as part of a show of force by U.S. officials, including Cabinet secretaries and dozens of lawmakers, who are fanning across the conference to argue that the country never stopped fighting climate change, even as former President Donald Trump pulled the nation out of the Paris Agreement and dismantled regulations critical to achieving promised emissions cuts. "I wasn't real happy about that," Obama said.
Obama, who helped forge the Paris Agreement, reflected on progress since the pact's signing in 2015 while urging governments, companies and civic groups to act more aggressively to keep the planet's warming within 1.5 degrees Celsius of pre-industrial levels. That's a target of the agreement.
"Paris was only supposed to be a beginning — not the end point — of our joint effort to control climate change," he said. "Most nations have failed to be as ambitious as they need to be."
Obama singled out China, Russia and India, saying those nations needed to be climate leaders. He chided Russia President Vladimir Putin and China President Xi Jinping for skipping the United Nations summit.
"We can't afford to have anybody on the sidelines," he said.
India Prime Minister Narendra Modi said last week the nation will zero-out pollution by 2070. But the country, the third-largest emitter, has yet to offer a new, formal Paris Agreement pledge codifying that.
Row Together
Right now, even if countries fulfill their Paris pledges, the world will blow past the 1.5-degree target with devastating consequences for island nations, Obama said earlier. The world must overcome the obstacles of legacy energy systems, vested interests and domestic politics, he said.
Obama, who spent much of his childhood in Honolulu, began his day in a session on island resilience, sitting alongside representatives from Fiji, Grenada and the Marshall Islands — nations particularly vulnerable to encroaching seas.
"Islands are the canary in the coal mine in this situation," Obama said. "They are sending a message now that if we don't act — and act boldly — it's going to be too late."
Obama invoked a Hawaiian proverb that he said translates to "unite to move forward."
"It's a reminder that if you want to paddle a canoe, you better all be rowing in the same direction at the same time," he said. "Every oar has to move in unison; that's the only way to move forward."
Obama also nodded to shortcomings by developed nations responsible for the bulk of historic greenhouse gas emissions.
"All of us have work to do. All of us have sacrifices to make," Obama told about 200 delegates and others at the island nations event. "But those of us who live in big, wealthy nations — those of us who helped to precipitate the problem — we have an added burden" to assist the nations that are less responsible for warming but more vulnerable to its effects.
Rich nations, including the U.S., have fallen short of their commitment to provide $100 billion in climate finance for developing countries annually by 2020. The U.S. is on track to provide about $3 billion in fiscal 2022, and President Joe Biden has pledged to deliver $11.4 billion annually by 2024.
Recommended for you

Egypt flies the green flag ahead of COP27's arrival in Cairo