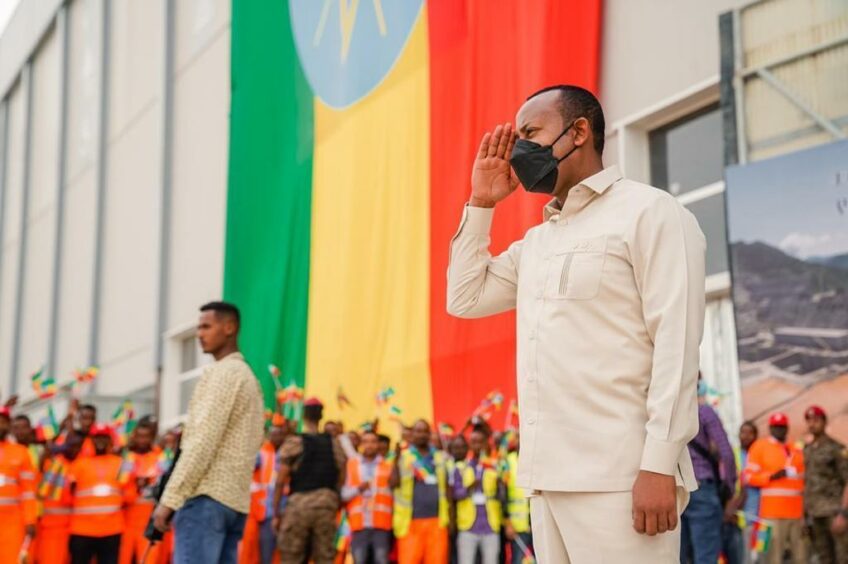 Ethiopia has begun generating power from its controversial Grand Ethiopian Renaissance Dam (GERD).
Prime Minister Abiy Ahmed Ali said the start of operations was "good news for our continent and the downstream countries with whom we aspire to work together". The start of the GERD's first 375 MW turbine marked the "birth of a new era", he said.
Both Egypt and Sudan have opposed the construction of the GERD dam, fearing it may reduce water flows.
The minister with responsibility for the GERD Seleshi Bekele said the start up of operations proved that it could generate power without reducing the flow of water to those downstream.
The company has filled GERD and begun operation in line with the Declaration of Principles, he said. The facility is a "water bank" for local power generation, while safeguarding against flood and drought.
"GERD should be the source of cooperation, not conflict, for shared prosperity not bringing scarcity, regional integration", he said. The dam will help achieve a number of Sustainable Development Goals (SDGs).
"Ethiopia honestly cares not only [for] it's benefits but also the wellbeing of brothers and sisters sharing the Nile River," Bekele said. "Our call is let us use our God given resources judiciously & realise the win win for all."
Existential threat
Egypt has condemned the move. Noting the start up of operations at the GERD, the Ministry of Foreign Affairs said the step was a violation of the Declaration of Principles from 2015, to which Ethiopia had agreed.
Minister of Foreign Affairs Sameh Shoukry, speaking in July 2021, described the GERD project as an "existential threat" to Egypt. Speaking to the United Nations Security Council, Shoukry said the dam would "constrict the lifeblood of innocent millions living downstream".
Webuild confirmed the start up of the first turbine. The Italian company noted that the plant would reach total capacity of 5,150 MW. The GERD will be the largest hydropower dam in Africa, it said, helping Ethiopia in its target to achieving carbon neutrality by 2025.
The GERD project is 84% complete, Webuild said. The main dam will be 1,800 metres long and 170 metres high. The reservoir behind the dam will hold 74 billion cubic metres of water.
Webuild CEO Pietro Salini said the GERD project had "changed the capability" of Ethiopia. Water, he said, was the country's special gift. "This is the white oil of Ethiopia."
.