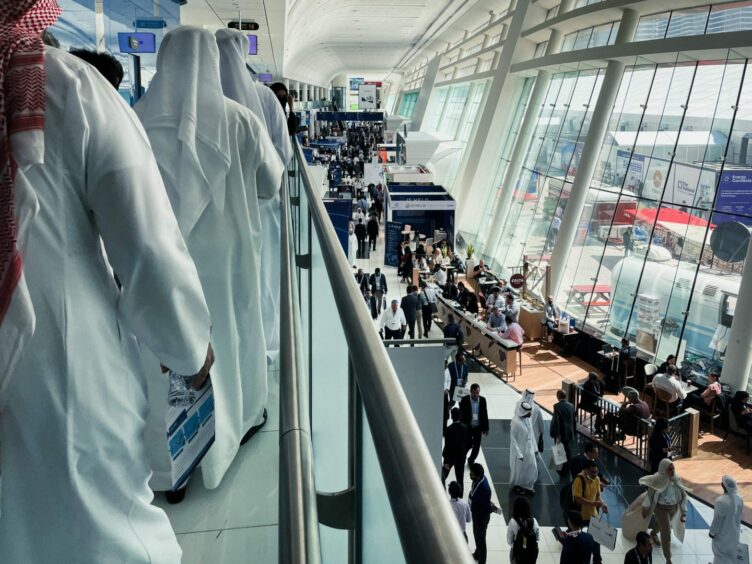 A number of key uncertainties remain over the deployment of hydrogen, but one point of agreement from Adipec this week has been the need for long-term contracts.
"The first projects are going to be expensive," said Ulrika Wising SVP energy transition at Vallourec. "Everyone thinks the price is going to do down and therefore they don't sign up to long-term agreements and therefore the projects don't happen."
Hydrogen project backers need security of contracts in order to take final investment decisions (FIDs), she said. "We need some of the big institutions to support those projects and get the costs down, so we can get private money to come in and sign agreements."
Wising drew a comparison with the early LNG industry. "At that time, people were willing to sign up to 10 year deals [for LNG]. Today, people won't even sign up to five year deals for hydrogen. It's only when we get the first projects going that we really know technology can deliver – and not just technology but the supply chain can deliver."
There is unlikely to be a cost disparity ultimately between countries, the Vallourec executive said, although initial projects may see some differences.
Wising said that she saw the most activity in terms of hydrogen taking place in Europe. However, with Washington's approval of the Inflation Reduction Act (IRA), "I'm sure the US will surpass very quickly".
Speaking on a panel at Adipec, Wising expressed concerns around using hydrogen in the existing gas network. "We're using it for natural gas, it's not like we have a spare network for hydrogen. Second, there's already methane emissions from our gas network, and that's a much bigger molecule than hydrogen."
Pipe problems
Hydrogen is a greenhouse gas, similar to methane but harder to contain, she continued.
"Is it worth upgrading [the network] or use existing right of ways and put new pipes in. The leakage problem is a massive issue," she said. There has been discussion of blending 20% hydrogen with methane, but Wising was not convinced.
"It's actually better to use that money to fix the network and tackle methane leakage, that would be a bigger impact as methane is even worse than hydrogen when it comes to greenhouse gases," she said.
Snam SVP of decarbonisation Piero Ercoli was unconvinced by Wising's concerns on the network issue. "We need to look at the numbers. On our network there is no issue."
There is a need to deal with the hydrogen challenge, he said. "I believe, at the end of the day, when you are talking about substituting fossil fuels with something that is zero emission by definition … it is going to be for sure incremental. It will be a benefit."
Ercoli said he was "not particularly concerned. The opportunity is much bigger than the risk. We need to utilise what we have – permitting new infrastructure is difficult."
Getting started
The Snam official went on to agree that progress was essential to get the industry moving.
"We see a lot of different things running in parallel," he said. Some apparent lessons were already coming to the fore for Ercoli, including centralised hydrogen production versus decentralised.
"We need to start with clusters and we are already thinking about how to balance these clusters. The problem we will have is very different from the problems we have today," he said.
Amid challenges in transportation of hydrogen, with the corresponding energy losses, the initial case will be focused on local demand – such as in a cluster development.
"At least to start we're going to see much more hydrogen build out where we have the demand," Vallourec's Wising said.
Technology talks
Snam is working on a project, he said, to test the use of a depleted gas field for hydrogen storage.
Another area of potential growth for hydrogen is from offshore wind. Kent principal process engineer Luigi Crolla presented a plan on installing an electrolyser offshore, to capture the electricity from a wind farm, which could then be piped onshore.
"You don't have the electrical losses in the high voltage cables," he said on the sidelines of the Adipec event. With a typical distance of 30-50 km offshore, a cable may lose up to 10% of electricity.
Operators could hook wind turbines into a central area. On an offshore facility, perhaps a disused oil platform, the developer would house the electrolyser.
A couple of projects are investigating these opportunities, he said, citing Salamander and Dolphyn in the North Sea.
The Kent engineer predicted the first port of call for hydrogen demand would be a "drip feed" into the petrochemical industry. This could be as a fuel or a feedstock, he said, acting initially as a supplement to traditionally produced grey hydrogen.
Crolla expressed confidence in building new pipelines with coating to transport hydrogen. However, he said developers needed to do more work to develop the coupling to the platform.
Recommended for you

Methane emissions in the crosshairs for energy industry