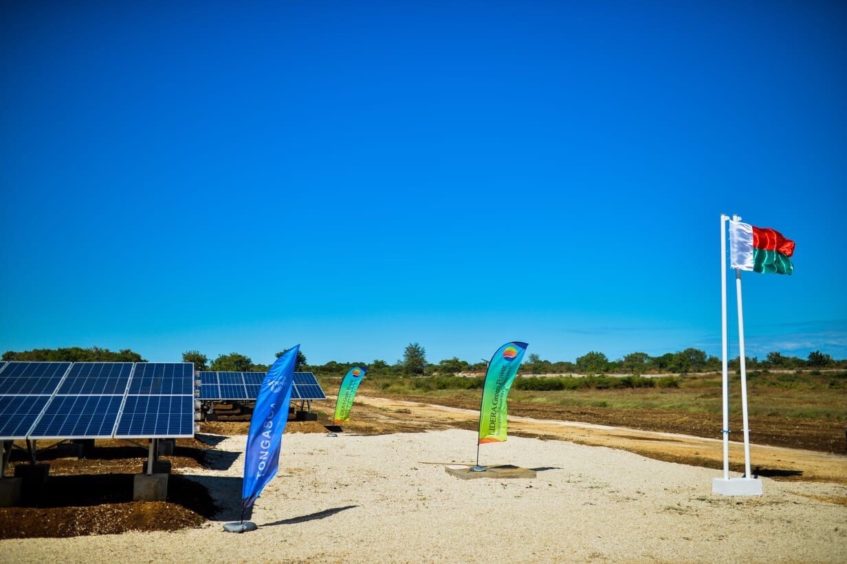 Groupe Filatex is a Madagascan company that has plans to be a leading light in Africa's renewable energy sector.
The company started down the route of the energy transition with the aim of adding solar panels to complement heavy fuel oil (HFO) fuelled power plants.
Electrification rates in sub-Saharan Africa are broadly low but the problem is acute in Madagascar. Only 15% of the people have access to power, the company has said.
"We're transforming the company into a renewable energy company. We started looking for partners and solutions around three years ago," Groupe Filatex's chief investment officer George Conde told Energy Voice.
There was an internal drive for the company to shift to renewable energy, which comes in tandem with the government's support for the energy transition. "We had to follow and provide the government with the best solutions out there. We're working hand in hand."
Number crunching
There is also a cost driver, Conde said. Jirama, the state offtaker, is keen to control spending. "We can't continue to rely on HFO to generate electricity. Solar is much cheaper," Conde said.
The executive went on to say support from banks and financial institutions had been positive. "We've shown what capabilities we have," he continued. It has held talks with the Trade and Development Bank (TDB), African Development Bank (AfDB) and Afreximbank, Conde noted.
Financing is becoming increasingly scarce for fossil fuel projects, whereas renewable energy is an attractive option for development banks.
The company is working on four hybrid sites, ahead of its initial schedule. It will reach 49 MW by the end of the year, adding another 20 MW in 2022.
Conde is keen for progress. "We're increasing investments in Madagascar and we're trying to develop projects faster. Two years ago, we only expected around 60 MW of solar. Today we expect to reach 140-150 MW in the next two years."
Wind moves
The next step is a move into wind. In a first for Madagascar, the company is launching a wind project in the south of the country. The move into wind comes with support from the government.
"Wind power has not been in Madagascar because it's challenging. The island faces harsh weather, from hurricanes and tropical storms. High wind speeds can damage the wind farms," Conde said.
"As one of the main independent power producers (IPPs) in Madagascar we decided to work on a pilot site."
Few wind turbine suppliers are able to provide blades that can handle the tough weather. Talks with a supplier are at an advanced stage, Conde said. The turbines use collapsible blades, which are able to fold up and wait for the storm to pass.
"Once we've approved the project, construction should take 12-14 months," Conde said. Groupe Filatex is working on three 5 MW plants, in partnership with DERA Green Energy.
The company will sell the power into the national grid, to Jirama.
Expansion may involve a move into mini hydropower, the CIO said, citing government support for such a move.
Distribution
Looking beyond generation, Madagascar needs support in how power is distributed.
Groupe Filatex is looking at offgrid mini sites in a bid to improve energy access. "There's not an interconnected network. Besides improving reliability of production at cheaper rates we must also consider offgrid needs and investment in transmssion lines."
Conde said the future for countries like Madagascar was in distributed energy. "There must be a mix of offgrid and grid, with smart grid integration to work together. We need to make sure that the energy transition, from fossil fuels to renewables, doesn't come at a cost for the population."
One way in which Groupe Filatex is working on power distribution is through mobile solar units. Conde explained the company could deploy generators and batteries to remote regions. "These rural areas become 100% electricity autonomous."
The company, with France's Akuo, began offering the Solar GEM units in Tulear in November 2020. These power units can be up and running in 30 minutes, and can be taken down in 45 minutes should the weather turn inclement.
Groupe Filatex has pan-African plans, the CIO said. The company has been working on a 66 MW solar project in Cote d'Ivoire and a hybrid plant in Guinea. The latter would involve 10 MW of solar and 33 MW of mini hydro.
COVID-19 and the resulting travel restrictions have put Groupe Filatex's plans on standby, for now. "We hope by the third or fourth quarter of 2021 that projects will kick off again," Conde said. "The vision is to be one of the leading renewable energy producers in Africa."