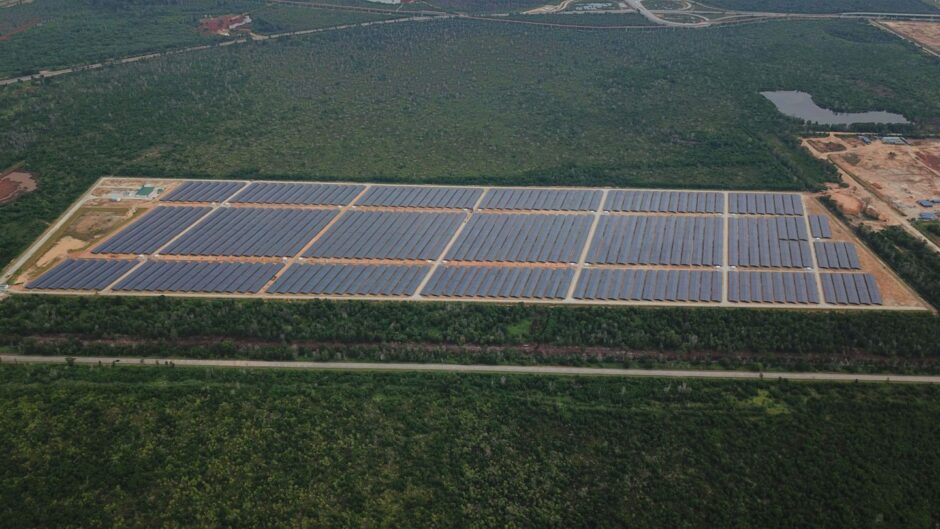 Energy industry insiders in Asia see the importance of renewables rising in the near term, according to a recent report by BayWa r.e.
A survey reported that a majority of companies expect renewable energy use to increase to 41-60% in the next six to 10 years. As a result, 76% of organisations have tasked teams with sourcing and procurement for renewable energy.
While companies – and consumers – are turning up the pressure to decarbonise, the BayWa r.e. report raised some government-side responses, needed to unlock investments.
Malaysia
Malaysia is a case in point. The country has grown its renewable energy prowess in recent years and, while some challenges such as the grid remain, but country is making progress.
The state launched its Sustainable Energy Development Authority (SEDA) in 2011. Initially, the government provided incentives via a feed-in tariff (FIT) system, before launching its large scale solar (LSS) programme in 2015.
BayWa r.e. was one of the companies working under the LSS scheme, Niranpal Singh, managing director energy solutions in Malaysia, said. "The agency didn't just set up projects but it also structured the education and certification programme, so that there were competent engineers certified to work on projects," he explained.
"Solar is probably the easiest technology to deploy in Malaysia, it can go on rooftops of buildings, land – or even water," Singh said. "Technology has moved fast enough so that most corporates can access it … solar is for everyone."
Enthusiasm for Malaysia's LSS programme saw increasing numbers of interested parties in the LSS 3 and 4 phases, with nearly 900 participants.
This enthusiasm is not just in Malaysia, Singh said, although the country is a front runner. "In Thailand there was overwhelming participation, with a similar story in the Philippines, although with more foreign participation."
Changing approaches
Thailand held its elections in May. "The government is setting up after the vote," Singh said. "Thailand is probably going to make a comeback, with transparent measures attracting foreign investment. Indonesia is a bit slower, with its subsidies for coal, but that may change in a couple of years."
Singapore has also been an attractive destination. Singh said the system was "transparent", with the government offering "efficiency and transparency".
Developers can build their own solar systems, with parity for grid pricing. "The benefits are clear, although the size of the market in Singapore is limited."
Countries in the region are moving from FIT and state-backed rounds to a more open approach. "Governments have said the next projects will be for corporates. They have to allow the private sector to come in and move the scale, without them, moving that scale is hard."
Singh explained there would be no more LSS offerings in Malaysia. Instead, the government will expect companies – foreign and domestic – to enter and sponsor projects, with Singh describing it as similar to the contracts for difference (CfD) scheme.
Connecting corporates
Because of this organic growth, a domestic market has grown up with around six locally listed renewable companies. "The resources and ecosystem is there to support the move to cut corporate emissions, it only needs investments – and corporates are knocking."
Solar is flexible and scalable, Singh continued, but intermittency is challenging for the grid. "The grid is an issue. Without enough infrastructure there will be curtailments."
Singapore is one of the countries taking steps to prepare its grid for changes in generation. Grid owners need to enhance the existing assets and also upgrade performance.
The BayWa r.e. official went on to highlight the notion of the pan-Asian grid. "It was mooted around 10 years back but was never taken seriously. It's now understood this is going to be a backbone of development."
Technology and manufacturing companies are eager to secure renewable energy in Malaysia, in order to decarbonise their supply chain.
Singh noted this was an increasingly important area to focus on, given increasing talk on tackling emissions at borders.
Financing
BayWa r.e. has supported commercial and industrial (C&I) projects, while larger local banks have shown a willingness to fund private programmes. Financing in the sector is mature, Singh said, and includes Islamic lending.
The Asia Development Bank (ADB) took a significant step in 2022 in terms of its sustainability lending, with Singh praising its comprehensive framework and clear assessment criteria.
"The issue these days with banking is not so much that there isn't interest, but it's more about how it's structured. Smaller developers don't know how to access these frameworks," he said. Due diligence for an environmental impact assessment (EIA) on a hydropower project could take a year and a half, he explained, posing a challenge for small companies.
Governments took steps in 2022 to protect corporates and consumers from the impact of heightened energy prices. This era cannot continue.
"The industry is still in relief mode. Will that happen going forward? No," Singh said. As states seek new ways to ensure energy security and cut carbon, more corporates must think more seriously about opportunities in the renewable space.
Updated at 3:39 pm to correct Singh's title. 
Recommended for you

Trio of contracts awarded for 1GW Buchan floating wind project