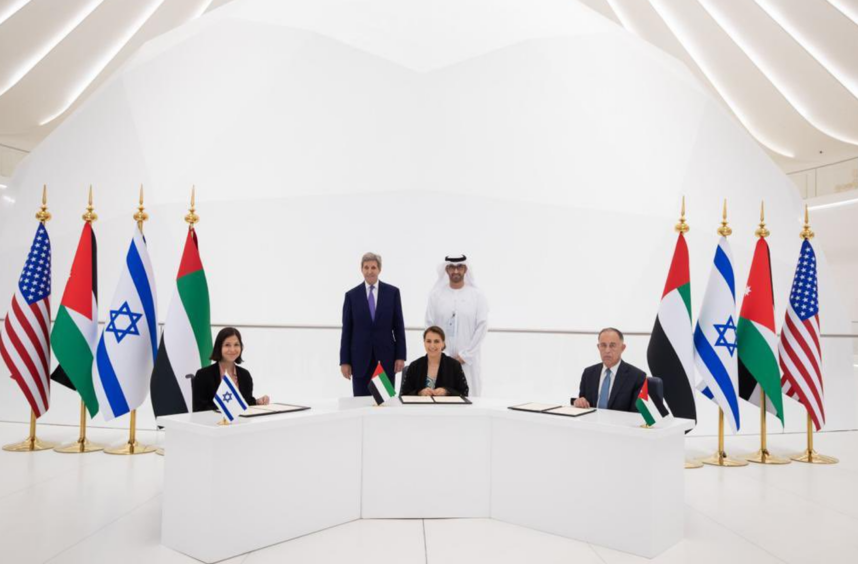 Jordan and Israel have agreed to co-operate on solar and desalination projects, with support from the US and United Arab Emirates.
The UAE's Wam news agency reported the countries had signed two related agreements.
Prosperity Green sets the stage for the construction of a solar photovoltaic (PV) plant in Jordan, with 600 MW of capacity. All this power would be exported to Israel.
Prosperity Blue involves a water desalination programme, built in Israel, to supply Jordan. The plant would provide 200 million cubic metres of water, the news agency reported. Jointly, the plan is known as Project Prosperity.
Israeli Energy Minister Karine Elharrar signed the agreement with Jordan Minister of Climate and the Environment Mariam bint Mohammed Almheiri and Minister of Water and Irrigation Mohammad Al-Najjar.
Abu Dhabi Minister of Industry and Advanced Technology Sultan Ahmed Al Jaber and US special presidential envoy for climate John Kerry witnessed the signing.
The parties to the agreement will start feasibility studies in 2022.
Axios has reported that the UAE's Masdar will build the power plant. It should begin producing power by 2026, providing 2% of Israel's energy needs by 2030.
Jordan's Al-Najjar said climate change and refugees had put pressure on the country's water balance. "Water desalination is an important component of our overall strategy for the water sector's sustainability, and we are continuously looking at different ways to help increase water supply", the minister said.
The Israeli minister said the agreement was good for Israel and Jordan, but also the "region as a whole and will send a strong message around the world about how nations can work together to battle the climate crisis".
Needs, capabalities
The two countries have "different needs, different capabilities", she said. Together, they can help "the other meet their challenges in a cleaner, greener, and more efficient manner. Jordan has an abundance of territory and sunshine which is perfect for solar panel fields, good for energy solutions and storage, and Israel has desalinisation plants that can help Jordan with its water scarcity."
Israel has set the target of securing 30% of its power needs from renewable sources by 2030.
Unicef has described Jordan as the second most water stressed country in the world. A study from Stanford earlier this year predicted the situation would worsen. It suggested Jordan carry out large-scale desalination.
Israel established diplomatic relations with a number of its Middle Eastern neighbours in 2020 under the Abraham Accords. Israel reached an agreement with the UAE in August 2020.
Speaking to Bloomberg last week, an Israeli official, Yair Pines, said the country was interested in foreign solar projects. The official noted "Jordan, Egypt, Greece, Cyprus" and countries further afield.
"Our neighbours have lots of open land, something we don't have. We have the technology," Pines told Bloomberg. "It's reasonable that this vision will turn into reality in the coming years."
In October, Israel agreed to double the amount of water it would supply to Jordan. It would increase the volume to 50 mcm per year of water.