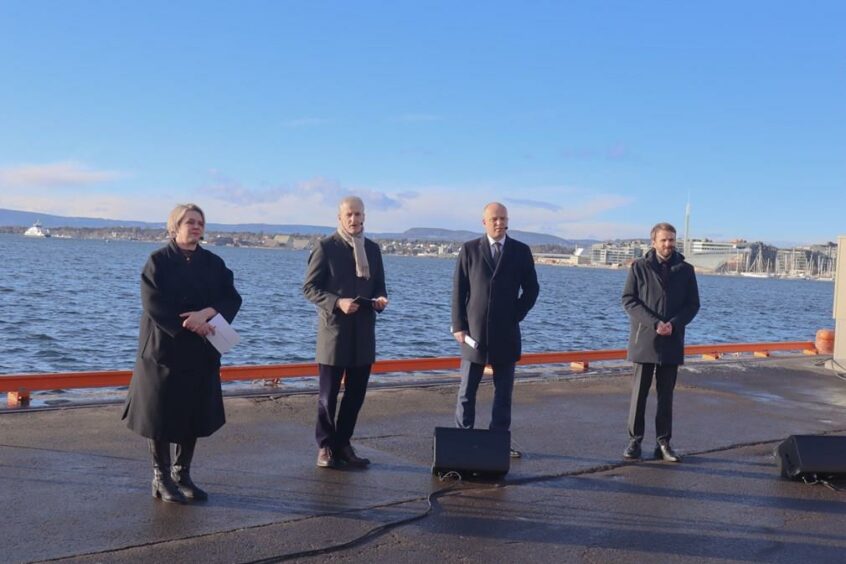 The Norwegian government has fleshed out plans for its 4.5GW offshore wind auction, confirming its intention to split one tranche into two 1.5GW phases.
The government announced plans to lease the Utsira Nord and Sørlige Nordsjø II areas in the North Sea in 2020, with the aim of procuring up to 4.5 gigawatts (GW) of capacity.
Leases will be extended to both floating and bottom-fixed wind turbines, it said.
Utsira Nord is an area of 380 square miles located northwest of Stavanger, which the government says is suitable for floating wind sites, while Sørlige Nordsjø II covers around 1,000 square miles bordering the Danish North Sea, where bottom-fixed turbines may be more appropriate.
The Sørlige Nordsjø II lease area will be split into two 1.5GW phases, the government confirmed today, the first of which will be offered via an auction to projects that can be directly connected to the mainland grid.
The Ministry of Petroleum and Energy (NPD) is now in the process of developing an auction model for this first phase, it said.
The second phase of Sørlige Nordsjø II will take longer, with the government saying it would now decide how best to enable grid connection and what effects this will have on the power system.
The Norwegian Water Resources and Energy Directorate (NVE) will carry out the analysis in collaboration with Statnett.
The analysis will also look at the consequences of various grid solutions for offshore wind power in terms of their connections to both Norway and abroad – assuming Norway does not build any further interconnectors. The study is expected to be completed by the autumn.
The government said it would now proceed with regulatory changes to enable the auction and area allocation process, and submit a bill this spring proposing amendments to the Marine Energy Act.
Moreover, it confirmed its intent to continue with further offshore leasing rounds, and will now commission NVE to identify new areas and prepare proposals for an impact assessment program – a process which it expects will take 9-12 months.
Prime Minister Jonas Gahr Store said: "This is a solution that increases the power supply to southern Norway."
"The government's goal is to facilitate that Norway has access to plenty of renewable and affordable power, so that this will also in the future be an advantage for Norwegian industry and contribute to value creation and employment throughout the country."
"The government wants a comprehensive investment in offshore wind. Sørlige Nordsjø II and Utsira North will contribute to increased power production in Norway. This will give more power to the increasing demand we see through the electrification of Norwegian society, contribute to technology development and cost reductions and develop Norwegian industry," added Minister of Petroleum and Energy, Marte Mjøs Persen.
Earlier this week, Vattenfall and Norwegian company Seagust announced they would form a joint venture to bid for offshore wind areas in the upcoming auction.
Recommended for you

UK offshore wind industry pain to last years, hedge fund says