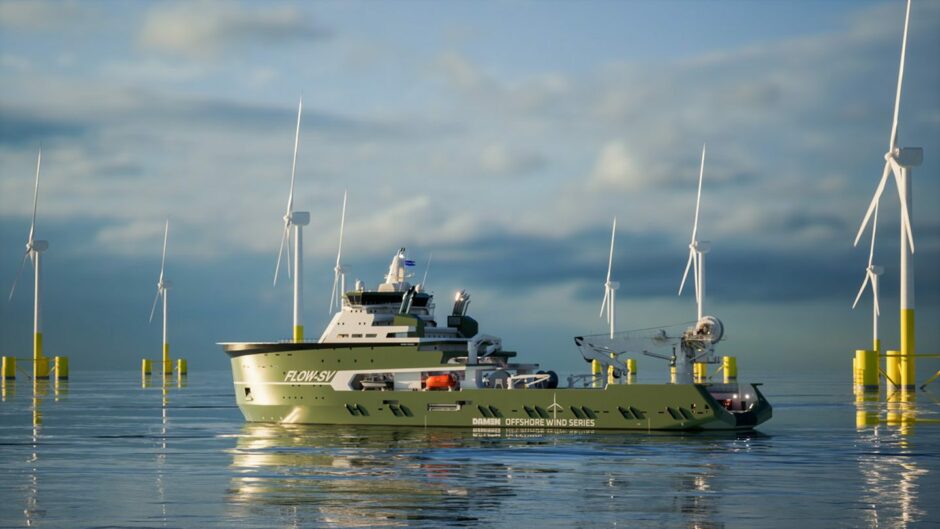 Dutch ship-building group Damen is planning to grab a slice of the nascent floating wind turbine installation vessel market.
The company, which is also now breaking into offshore infrastructure fabrication, has developed a multi-mooring systems installation ship design dubbed the FLOW-SV that it claims will accelerate the pace of installation by being able to carry three ground tackle packages.
It is still at the concept stage and Damen is now looking for project partner to "refine and customize" the design, which will have a massive open main working deck.
A timescale to the first build and commissioning has so far not been disclosed.
Large anchor handling vessels available today have limited carrying capacity and are booked in long-time charters or in other maritime operations. Market research suggests that around 100 high capacity turbine anchoring vessels of the FLOW-SV type will be required.
In its recent floating wind turbines market analysis, DNV identified that the second biggest risk to developing this market was installation vessel availability tied with capacity.
"While floating wind does not necessarily require as advanced and bespoke vessels such as the jack-up vessel used for bottom-fixed wind, the sheer volume and capabilities of vessels needed to efficiently install mooring, perform towing and hook-up of the floating structure and install dynamic cables can create an issue," warns DNV.
"Most critical is perhaps the capability and availability of mooring and anchoring installation vessels. wind farms. We also expect more moorings and anchors to be installed than we've ever historically seen in the oil and gas industry."
Measuring approximately 150m overall x 32m breadth, Damen's FLOW-SV will be a big ship. The size and weight of anchors and chains needed for installing offshore floating wind turbines are so big that a larger vessel is needed than any type of anchor handler so far built.
Depending on seabed conditions, depth and windfarm operator requirements, anchors can be replaced with suction piles to provide a secure ground tackle.
When deploying floating turbine anchor spreads, chain will be guided to large winches located at the forward end of the main deck and led aft for laying over the broad stern.
The company has so far not disclosed the likely power requirements of the design, but it will be multiple megawatts. Damen anticipates too that the vessel's six-generator machinery package will run on methanol rather than diesel as it is environmentally cleaner.
As sea bottom inspection is needed to determine the best spot to install the anchor and so FLOW-SV will carry a pair of work-class ROVs managed from two separate control rooms next to a moonpool.
Damen says it has so far received valuable input from industry experts like Temporary Works Design (TWD), First Marine Solutions (FMS) and Intermoor; also Kongsberg and McGregor.
The burgeoning offshore wind market and shortage of bespoke construction and support vessels is leading to various companies repurposing existing tonnage in the hope of capitalising on this market.
It is with this in mind that Dubai-headquartered P&O Maritime Logistics is to convert one of its multi-carrying vessels (MCV's) into a cable-laying unit.
It is to be fitted with a 24m diameter basket-style cable carousel capable of stowing 4,000 tons of power cable and the company anticipates that one of the main use of the vessel will be to connect offshore wind farms to shoreside infrastructure.
The plan is to not only change the function of the ultra-shallow-drafted ship, its propulsion system is to be radically altered to a hybrid. The existing diesel-electric machinery package will be altered to handle methanol fuelling, plus a large bank of batteries will be fitted to enable emissions-free operations when and where required.
The DP2 class vessel will be the first-of-its-kind within the company's large fleet. However, the name of the conversion candidate has not yet been revealed.
The modified ship is, however, due to enter service during Q3 next year and is part of a plan by P&O Maritime Logistics' commitment to decarbonising its fleet and wider specialist support vessel sector.
The conversion by P&O Maritime Logistics builds on the company's recent success in Taiwan with the Topaz Installer, which was built as a cable-layer in 1999 and is now engaged in windfarm work offshore Taiwan . It is on contract to Subsea 7 and Van Oord until 2024. The end client is Orsted Taiwan.
Recommended for you

Port of Aberdeen hits 100 vessel milestone for offshore wind