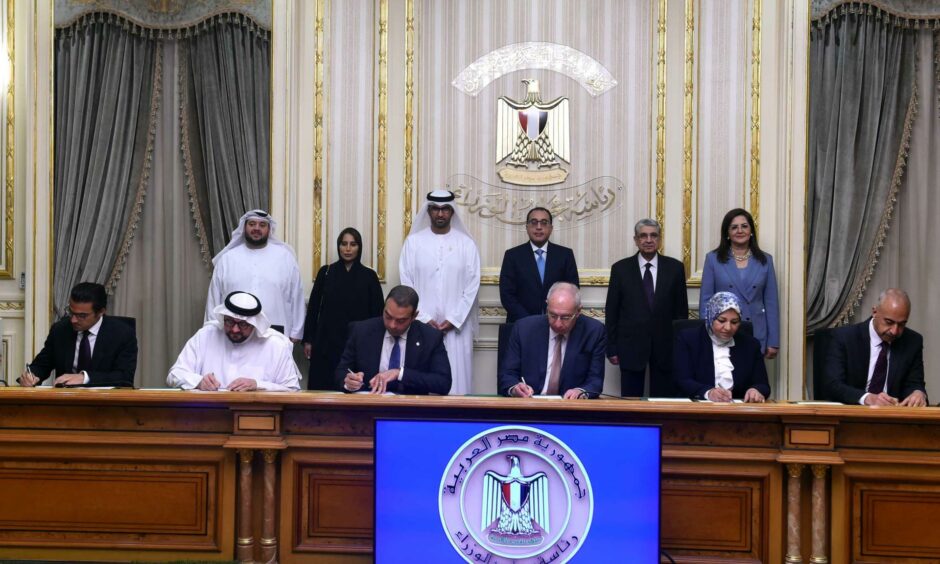 Masdar, Infinity Power and Hassan Allam Utilities have signed a land agreement for a 10 GW onshore wind farm in Egypt.
The original agreement was struck at COP27, in November last year.
A number of big hitters attended the signing this week. These included Egyptian Prime Minister Moustafa Madbouly, UAE Minister of Industry and Advanced Technology Sultan Al Jaber, and Egyptian Minister for Electricity Mohamed Shaker El-Markabi. Masdar CEO Mohamed Jameel Al Ramahi, Infinity Power CEO Nayer Fouad and Hassan and Amr Allam, CEOs of Hassan Allam Holding.
The project will reduce Egypt's CO2 emissions by 9%, the companies said, producing 47,790 GWh of clean power per year. It will also reduce Egypt's gas bill by around $5 billion per year.
Al Jaber, who is also the chairman of Masdar and COP28 president, said the wind farm would be the largest in Africa and one of the largest in the world.
"It is a sign of the strong partnership between the UAE and Egypt, with great potential to create jobs, cut emissions and power homes with clean electricity at competitive economical costs," he said. "The UAE looks forward to hosting COP28″, he continued. The Middle Eastern state stands "shoulder-to-shoulder with the Global South in their efforts to decarbonize and secure a just energy transition."
Egypt intends to boost renewable energy generation to account for 42% of its need by 2030. In 2022, this was around 29.6%, according to official statistics.
Advantaged opportunity
Al-Markabi, the electricity minister, said Egypt had a comparative advantage in land availability. This is "necessary to produce a huge volume of electricity from renewable resources. Furthermore, Egypt's geographical location enables it to export green energy to Europe, especially as the country looks to further enhance and raise the efficiency of its national grid."
Infinity Power, a joint venture including Masdar and Egypt's Infinity, bought Lekela Power in March. The deal made Masdar the largest operator of renewables in Africa. It also has plans for up to 5 GW more capacity in Angola, Uganda and Zambia.
Recommended for you

What are the biggest fights at the COP28 climate summit?