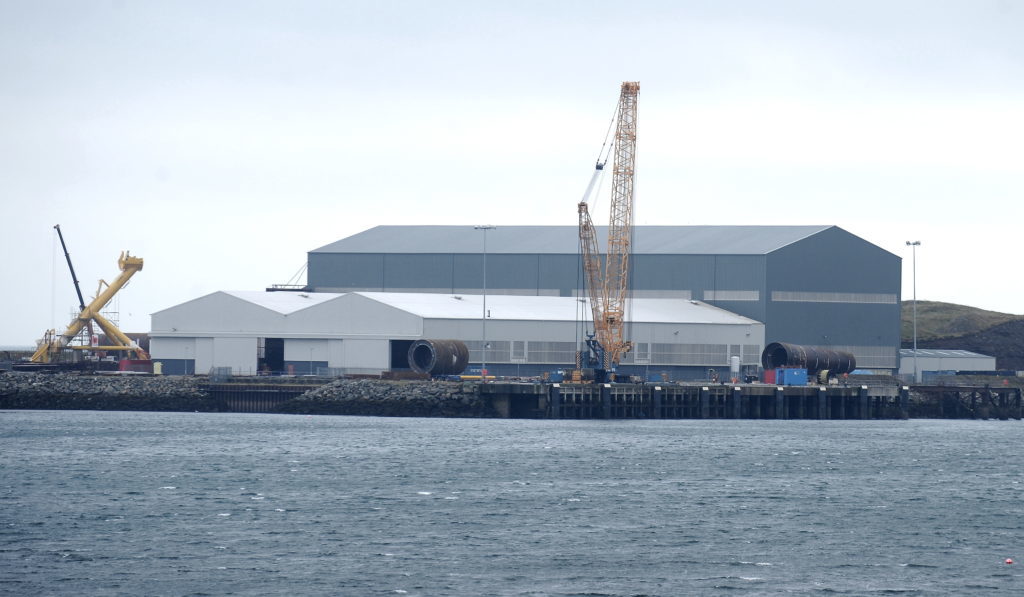 A mothballed yard currently on lease to Scottish manufacturer Burntisland Fabrications (BiFab) should be "separated" from the firm "as soon as possible", according to a Western Isles council leader.
Comhairle nan Eilean Siar councillor Roddie Mackay said BiFab's Arnish site should be passed to new operators in order to bring future work and new job opportunities to the Isle of Lewis.
The yard, which saw 80 workers handed redundancy notices last year, has lain empty since November after the completion of a pin piles contract for the Moray East Offshore Wind Farm.
However, local campaign group Action For Arnish claims the site could rise again after new offshore wind acreage in the North Sea and around the Western Isles was announced by Marine Scotland in December.
Mr Mackay, who attended a meeting with the Scottish Government yesterday, said: "There has been interest from new operators and it seems that the BiFab era is coming to an end.
"There are also significant concerns over a lack of maintenance of the excellent equipment at Arnish.
"Following these concerns we feel it is important to separate the asset from its operator as soon as possible and to look at new operators who will ideally look to tie in with ambitious plans for on and offshore wind around these islands."
The fate of BiFab was placed in peril last week as the Scottish Government announced it would be removing financial assurances for the firm.
BiFab's Canadian owner DF Barnes said the move placed the firm's ability to win a multi-million pound turbine contract on the NnG Offshore Wind Farm in a "very challenging" position.
A spokesman for the firm said: "BiFab's board of directors is now considering what the future for the company will be".
GMB Union's Scotland organiser Hazel Nolan said: "BiFab is on the brink and the community on Lewis are right to look at every possible opportunity to bring badly needed jobs and investment to the Arnish yard.
"But this is the real cost of the political failure of the last ten years capped by the Scottish Government's recent decision to walk away from BiFab – industrial ruins ruin for working class communities promised a green jobs revolution."
A spokesman for Highlands and Islands Enterprise, who rent the Arnish site to BiFab, said: "We will continue to engage with partners to understand what other opportunities may be forthcoming.
"Meanwhile the tenant has an obligation under the lease to maintain plant and equipment and we will seek to ensure that the obligation continues to be met."