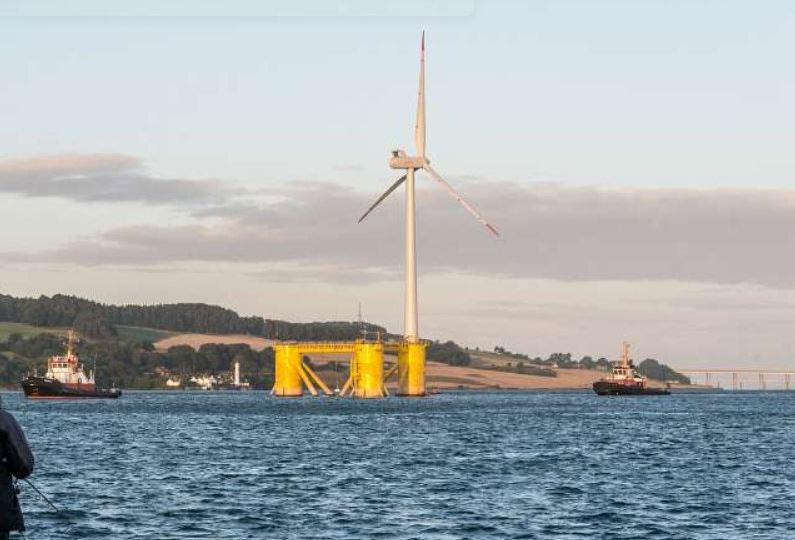 Offshore Design Engineering (ODE) has won front-end engineering design (FEED) work on the Dolphyn green hydrogen project off Aberdeen.
Meanwhile ODE's consortium member partners, Tractabel and Vestas, will facilitate construction and operation of the 10 MW commercial demonstrator unit by summer 2025.
It marks a move for Dolphyn, developed by Environmental Resources Management (ERM), to a commercial demonstration phase, with ultimate aims of producing green hydrogen at a huge scale using floating turbines.
Following the demonstrator, a multi-gigawatt project could provide "up to 25% of the UK's future low-carbon hydrogen needs", which is estimated for the early 2030s.
ODE, a technical service provider, is providing FEED for the topside equipment, export pipeline and facility design.
Frank Drennan, head of oil, gas and energy transition for ODE, said: "Producing clean, low-cost hydrogen at scale is widely recognised as a key enabler for the energy transition. With the potential to supply carbon-free energy to heat over 1.5 million homes, the ERM Dolphyn project will play a fundamental role in laying the path towards these goals.
"ODE is delighted to have the opportunity to work on this innovative project and to support development of the next generation of energy solutions."
It comes after the UK Government awarded £9million to ERM last week to develop hydrogen projects, including Dolphyn.
David Caine, partner at ERM said: "This support from the UK Government provides a welcome boost to the ERM Dolphyn project, as the hydrogen economy enters an exciting new phase of development.
"We are looking forward to working with ODE to deliver low carbon hydrogen as part of the energy transition that will help the UK to achieve its net zero goals."
ERM has previously said it intends to situate the 10MW demonstrator unit 15km off Aberdeen, using a similar design to the existing Kincardine floating offshore wind farm.
The location for the wider scaled up project has not yet been disclosed.
Last year, Simply Blue Energy and Subsea 7 said they are exploring whether ot build ERM's Dolphyn technology into their planned Salamander wind project off Peterhead.
Recommended for you

Hydrogen 'can create jobs and opportunities' in the UK