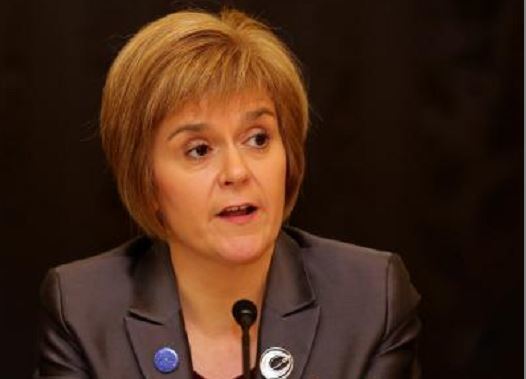 The timing of a second independence referendum should not be determined by what is "convenient" for Theresa May, Scotland's First Minister has said.
Nicola Sturgeon said it should be determined by what is right for the Scottish people, once the terms of Brexit are clear and before it is too late for the country to choose a different path.
Mrs May last week rejected Ms Sturgeon's call for a second referendum on Scottish independence before Brexit, saying "now is not the time".
Ms Sturgeon has said she is determined to hold the ballot, setting out a timetable for it to take place between autumn 2018 and spring 2019.
In an interview on ITV's Peston on Sunday programme she said there may be "room for discussions" about a date slightly later in 2019.
However, asked whether a date in 2021 would be reasonable, she replied: "I don't think that is reasonable because by that point Scotland has been taken out of the EU, two years have elapsed, presumably there is divergence opening up between the rules of the European Union, the single market and where the UK is going, and I think it then gets much harder for Scotland to take a different course.
"But if she's talking in the spring of 2019, a bit later perhaps than I was suggesting, then there may be some room for discussions around that.
"I'm up for a discussion within reason, but this is not a timetable that should be determined by what is convenient for Theresa May any more than it should be determined by what is convenient for me.
"It should be determined by what is right for the Scottish people and I think when the terms of Brexit are clear, but before it is too late for us to choose a different path, is what would be best for the Scottish people."
MSPs will vote next week on whether they will support her request for a section 30 order from Westminster, which would be needed for Holyrood to hold a legally-binding ballot.
Ms Sturgeon said that membership of the single market is the "minimum" that must be secured for Scotland.
She told Peston on Sunday: "That's the compromise position I set out, that we across the UK try to secure single market membership.
"The reason I was prepared to compromise there is because I think that the minimum for Scotland is to be in the single market, it's what I think makes sense for the UK as well if it's out of the EU, but my preference is for an independent Scotland to be in the EU."
Earlier, Ms Sturgeon told Sky News' Sophy Ridge on Sunday that Scotland would seek to remain part of the European Union.
Ms Sturgeon said: "There is no queue to join the European Union and we have had several voices over recent times saying that if Scotland wanted to be in the EU then there would be a very open warm reception for that."
Ms Sturgeon admitted that she did not know yet which currency an independent Scotland would use.
Pressed on whether Scotland could afford to become an independent country with a £15bn deficit, she said: "Perhaps some people would look at that and say could Scotland afford not to be, because that deficit … is one that has been created on, to use shorthand, 'Westminster's Watch'.
"That's not a feature of life in an independent Scotland, that's what happened with Scotland as part of the UK."
Scottish Labour economy spokeswoman Jackie Baillie MSP said: "The people of Scotland deserve some answers from Nicola Sturgeon.
"She is the person threatening a second independence referendum, yet she refuses to give voters the clarity they need.
"Last week John Swinney refused six times in a radio interview to answer the basic question about currency, Joanna Cherry was left floundering when asked the question on TV, and Stewart Hosie has signalled that the SNP wants to ditch the pound.
"Yet now we have Nicola Sturgeon causing even more confusion. It's quite clear that nobody in the party has a clue what would happen. Voters deserve better than that."
Scottish Liberal Democrat leader Willie Rennie MSP said: "The SNP's case for yet another independence referendum is increasingly feeble with her refusal to guarantee EU membership.
"The First Minister can't use the EU to claim a mandate when her referendum won't take us back in. It shows that the EU was just an excuse and that it has only ever been about independence for the SNP.
"Nicola Sturgeon is using EU supporters to get a referendum but will sell them out to get independence."
Recommended for you

Namibia: Shell and TotalEnergies giant oil discovery threatens resource curse