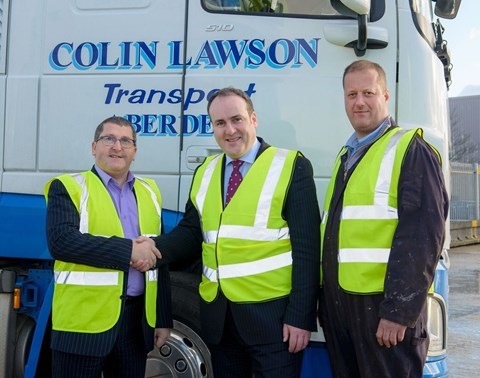 Jobseekers leaving the oil and gas industry are being urged to apply for one of more than 400 training places.
Five training providers are offering opportunities to retrain in another role as part of the second round of the Transition Training Fund.
The fund was established by the Scottish Government to support people affected by redundancies in oil and gas.
A wide range of courses will allow unemployed workers to move into a number of industries such as renewables, construction, decommissioning, road haulage, smart meter insulation and rail.
Scottish Government Minister for Business, Innovation and Energy, Paul Wheelhouse unveiled the new places when he visited Colin Lawson Transport in Aberdeen.
The haulage firm is one of those backing the government re-training scheme.
Mr Wheelhouse said: "The north-east of Scotland has a highly talented oil and gas workforce with world leading skills that can be utilised in a wide range of different sectors, including renewables, construction, decommissioning and many others.
"Our Transition Training Fund (TTF) established last year has already supported over 1,500 oil and gas industry workers to retrain, with some having been further supported to start their own business.
"It is also successfully supporting 12 individuals to transition into Science, Technology, Engineering and Mathematics (STEM) teaching within Aberdeen City and Aberdeenshire areas to address needs in local schools.
"The second procurement round of TTF will create over 400 training opportunities across a variety of sectors. It is absolutely crucial that we take every possible action to retain the expertise that the industry has built up over decades."
Colin Lawson Transport employs 70 people and has been training drivers for 20 years.
Mr Lawson said: "The haulage industry can offer great careers for the right people with the right skills.
"As a company we recognise the valuable skills people moving from the oil and gas industry can bring.
"We are committed to taking on more people via the Transition Training Fund who have retrained and who have shown their commitment to forging a new career in the haulage industry."
Craig Harris used the Transition Training Fund to retrain as a driver following redundancy.
The 46-year-old said: "I worked in technical sales in the oil and gas industry.
"Through the Transition Training Fund I've gained my class 1 and class 2 vehicles licences.
"I would encourage anyone in a similar position to look at the Transition Training Fund."
Recommended for you

NCDMB downplays oil sector jobs plan for militants