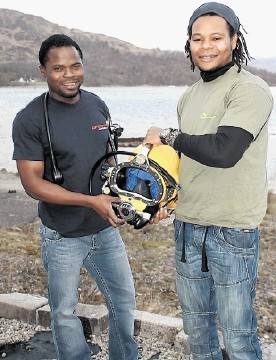 A Fort William subsea diver-training school and equipment-trial centre will play a key role in the development of Angola's oil and gas industry in the coming years.
The first two Angolans to be trained as saturation divers have just completed courses at the Underwater Centre, based at the head of Loch Linnhe.
Antonio Quetes and Antonio Njiva were the first of a group of divers oil and gas service firm Operatec is sending to the centre for training.
Angolan law requires that companies recruit and train employees from the country for offshore oil and gas operations there.
Steve Ham, general manager at the Underwater Centre, said: "It is great that Operatec has chosen the Underwater Centre to train the first Angolans in saturation diving.
"We're delighted to instruct these men, who have an excellent attitude, in our standards of safety and professionalism. The industry in Angola and Africa as a whole is growing and, as a result, there is going to be an increased need for local Angolan divers who are trained in all aspects of the job."
Mr Quetes and Mr Njiva completed the centre's three-week closed-bell course, which teaches experienced divers how to use a saturation system.
Saturation divers spend up to 28 days in a chamber pressurised to the same level of the sea at whatever depth that they will be working at.
Operatec director Lynn Holcomb said: "After carrying out research we felt that the Underwater Centre was more responsive to the company's need and the three-week course was more compact, so fitted in well with our diving rotations."
The centre, which employs 55 people, was established by the UK Government in 1975 to improve safety and competency in the diving industry. It was privatised in 1981 and current owner Finlay Finlayson bought the site in 2004 for an undisclosed sum.