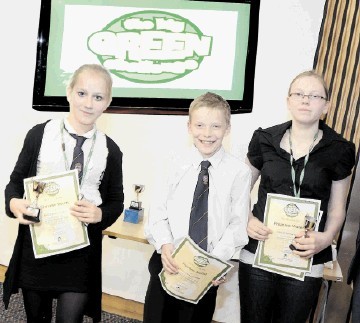 Kirkwall Grammar School students have proved Orkney has what it takes to call the shots on renewable energy.
A group of students from the school in Orkney's capital won the Big Green Challenge debating competition in Edinburgh, beating seven other schools from across the Highlands and islands.
All had made it through to the final of the competition, hosted by the Scottish Parliament and organised by Highlands and Islands Enterprise (HIE).
They had to debate the motion: "This house believes that renewable energy can help us to beat the economic downturn."
Iseabail Mactaggart, board member of HIE and chair of the judging panel at the Big Green Challenge finals, said: "We were seriously impressed by the incredibly high standards of these S1-S3 pupils, who were debating some of the most complex energy issues facing our world today."
Pupils, Rhiannon Walters, Thorfinn Moffatt and Branwen Bourn from Kirkwall will now visit the Eden Project in Cornwall as their prize.