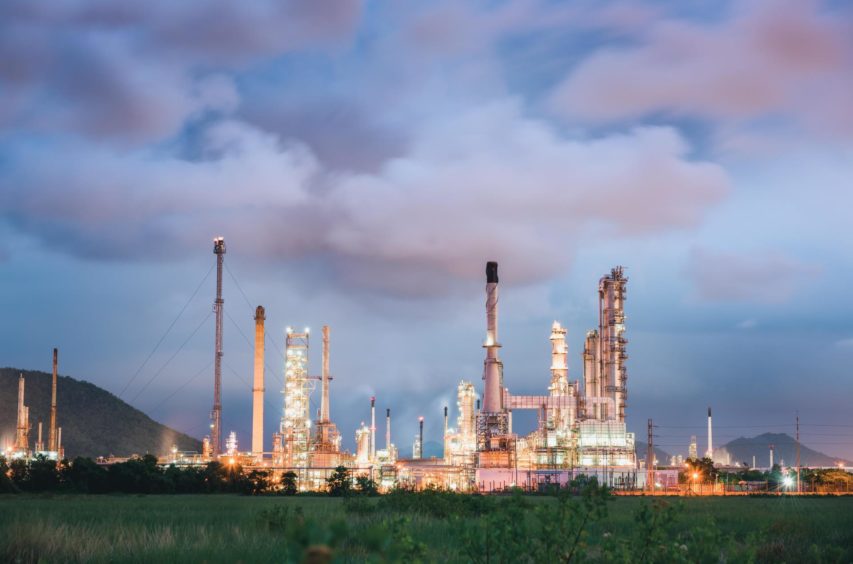 Leaving your job and starting up a new business requires an enormous leap of faith at the best of times.
But, doing it in the middle of a global pandemic, economic turmoil and targeting a sector as down on its luck as oil and gas is a whole different ball game.
For Hossam Aboegla, co-founder and executive director of Add Value Consultancy (AVC), the confidence in his expertise meant he did what others dare not.
In December, he launched the engineering and technical consultancy firm with the aim of "disrupting" the current market.
Until last year he had been working as an operations director at Lloyd's Register in Aberdeen, a position he had held for seven years.
But, when its energy division was sold in October, Aboegla decided it was time for a change.
Along with his two co-founders, an ex-colleague in the United Arab Emirates and an investor in London, he created AVC.
Headquartered in the Granite City, the firm's objective is to offer innovative and efficient solutions to help firms in the energy and industrial sectors maximise the value of their assets.
Comprised currently of five consultants, AVC designs and implements "customised solutions" to reduce risk and expenditure over an asset's lifetime.
When designing the business, Aboegla looked to address a common problem he found during  his 15 years working as an engineering consultant – companies doing the same things and expecting different results.
He said: "Up to this point the energy consultancy sector has been sitting comfy, not changing and not evaluating. Many of the services being offered aren't at a competitive price.
"The pandemic has forced every company to think about forming a resilient model and to consider how they could become more economical.
"However, many are resistant to those changes. They may pretend that alterations are happening but, in reality, when you look more closely there's a lot of scepticism."
Spurred on by a perceived lack of innovation in the sector, Aboegla set about creating a business model that can operate with "competitive prices and different packages".
He is currently a remote student enrolled at the prestigious Stanford University in California, studying for a master of business administration, something that gave him the "push and motivation" to try to make a big impact on the industry.
And while Aboegla admits that AVC is not a completely unique offering, he is confident that the way in which it's "packaged" will set it apart from the rest.
He said: "The main challenge in consultancy is that the client usually has a lack of understanding about what their obstacles are. They're then asking the service provider for a high level solution and they're given a stock answer off the shelf.
"However, at AVC we don't offer standard proposals. We have come up with a different, innovative method, something I'm calling 'design for delight'.
"The process covers three stages, helping the client to understand what their challenge is, brainstorming ideas for how to address them and developing a solution internally. I can then go back to the client and lay out what we'll do for them."
As part of his efforts to create a service which sets his company apart from the rest, Aboegla has created a new online platform called the "thoughtware network".
The system connects companies with global service providers, contractors and freelancers, allowing for the transfer of skills and best practices and giving clients "freedom of choice".
Aboegla explained it is then up to AVC's consultants to "meet the needs of the client and to match them up with the relevant service."
It also allows users to see what solutions have been delivered and how work is progressing.
This global offering is something Aboegla thinks will act as an "efficient" and "cost effective" solution, allowing the team to be responsive to differing needs.
He used an analogy to describe how AVC works with clients: "The most important thing for us is transparency. We're working for our client so they should have visibility and ownership over what we're cooking in the kitchen, rather than sitting in the restaurant waiting for a meal.
"The client has to be part of the culinary process. That means they can also appreciate all the effort put in to find a solution to their problem."
To date, Aboegla, alongside his business partners, have financed AVC entirely out of their own pockets, something he claimed will help give the firm an edge over its competitors.
He said: "I'm from an engineering background, the company isn't managed by accountants.
"That will make sure that solutions are being delivered in the right way, with the focus on experience rather than solely costs."
The challenge for AVC now is trying to make inroads into an industry that's taken a pummelling in the last year.
The Covid-19 pandemic and subsequent oil price crash has left many energy companies reluctant to spend.
And with decarbonisation efforts expected to ramp up in the coming years, the asset portfolios of oil and gas firms are likely to change dramatically.
Aboegla said: "The challenges at the moment aren't so much about the oil price, rather that the whole energy sector now is in a big transition – there are a lot of uncertainties.
"It's going to disrupt every company and will mean there are a lot more challenges arising. Operators will now have to consider things like sustainability and renewables.
"At AVC the benefit we have is that an asset is an asset, irrelevant of the sector. Whether it's upstream, downstream, geothermal or hydrogen, our job is the same."
Recommended for you

NSTA CCS boss talks about making the Track process 'sustainable'